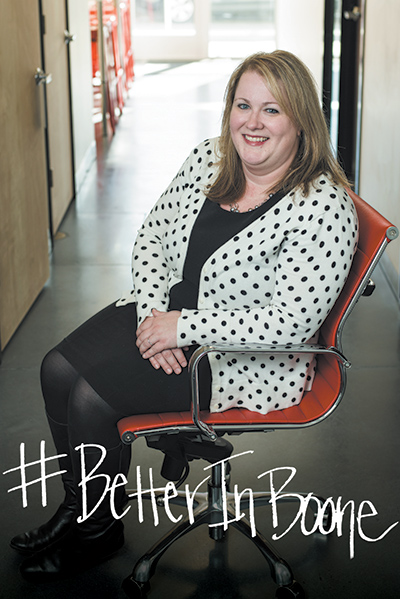 Executive Director
Boone County Economic Development Corp.
Whitehead is credited with helping attract more than $193 million in new capital investment in Boone County, an anticipated 1,800-plus new jobs, and a tax impact of more than $14 million for 2017 alone.
Age: 35
Birthplace/hometown: Lebanon/rural Boone County
Family: husband, C.J.; daughter, Madeleine, 3
Education: Bachelor's in political science and history from the University of Indianapolis, MBA from Indiana Wesleyan University. Also, a certified fundraising executive and graduate of Oklahoma University's Economic Development Institute training program.
Years with organization: 3
Getting here: Whitehead started as an intern with the Indiana Senate Majority Caucus, then later became a legislative assistant. She moved to former Lt. Gov. Becky Skillman's office, where she served as strategic initiatives coordinator. As grants and finance director for the Indiana Office of Energy Development, she administered federal stimulus funds and then worked as a senior project manager for the Indiana Economic Development Corp. before focusing on Boone County.
Inspirational moment: "The first ribbon-cutting ceremony I attended as an economic developer had a lasting impact," she said. "It showed me that this profession is not just about landing new investment, but about providing an environment where companies create jobs that allow someone the chance to make a living and provide for themselves and their families."
Major achievements: "In 2017, we announced 14 companies that have chosen to locate or expand in Boone County."
Bringing the beer: When she noticed her county didn't have a single microbrewery, her team created targeted marketing materials. "Within the first year, we welcomed Noble Order to Zionsville and People's Brewing Co. to Lebanon."
Recent challenges faced: "Obviously I can't provide details of the deals we've worked or where they might have gone wrong, but let's just say I am constantly learning how politics works and the importance of keeping everyone at the table."
Givebacks: Whitehead serves on the board of the Community Foundation of Boone County. "Most of my efforts for the past few years have been personally focused as we worked to bring our daughter home from China and have navigated a new world after learning she is deaf—and then trying to figure out what a work/life balance actually looks like."•
Check out more 2018 Forty Under 40 honorees.
Please enable JavaScript to view this content.