President and Co-Founder
OurHealth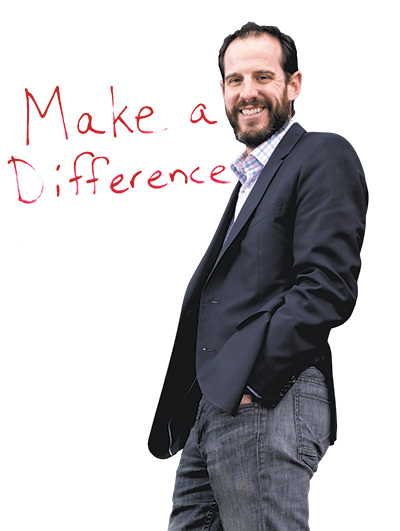 The youngest person ever to direct the Indiana Office of Medicaid Policy and Planning, Wells went on to co-found and run a company devoted to onsite and near-site medical clinics. Its first clinic opened in 2010, and the company now has 30 locations in five states.
Age: 39
Birthplace/hometown: Carmel
Family: wife, Jona; children, Dylan, 12; Helena, 9; and Henry, 6
Education: bachelor's in biology and business, MBA and medical degree from Indiana University
Years with company: 9
Getting here: "There are two parallel strings throughout my life," Wells said, "health and entrepreneurism." He took advantage of a joint degree program at IU for his medical degree and MBA, worked as an independent consultant, then became director of Indiana Medicaid before co-founding OurHealth in 2009.
Venturing out: The proposed business, Wells said, "checked all of my boxes in trying to create a model that was more value-focused. How do we improve health care in an economically rational way?" Plus, he added, "We can ensure that, 97 percent of the time, someone is able to be seen within 24 hours."
Transitional moment: Taking leave of his medical residency to advance health care policy for the state as Medicaid director under Gov. Mitch Daniels and Family & Social Services Secretary Mitch Roob. Wells called it his "first step to translate my passion and experience in clinical medicine to improving the delivery of health care for patients."
Major achievements: Growing OurHealth from just the co-founders to 275 employees with revenue of more than $29 million. Completing a $37 million round of fundraising. 
Recent challenge: "We realized as the business was growing and scaling that the big IT systems were inadequate. We embarked on a large, multi-month IT integration project. It was a big investment of capital, time and resources, touching virtually everyone in the organization. We went live a few days earlier than the initial target date and came in under budget."
Givebacks: Wells serves on the boards of the Heroes Foundation and YPO Indiana. "I'm still trying to figure out where I can make the biggest impact and how not to overcommit," he said of his civic involvements. His priorities: passion for the cause, respect and enjoying the people involved in the organization.•
Check out more 2018 Forty Under 40 honorees.
Please enable JavaScript to view this content.