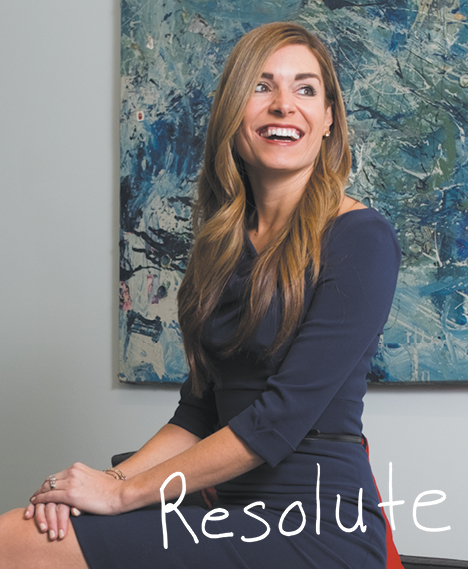 Partner, co-chairwoman of Gender Advancement Committee
Taft Stettinius & Hollister LLP
Age: 38
Birthplace/hometown: South Bend
Family: husband, Travis Sandifur; daughters, Harper, 9; and Emerson, 6
Education: bachelor's in political science and gender studies from Indiana University, law degree from Indiana University Maurer School of Law
Years with firm: 14
Getting here: On a trip to Disney World's Hall of Presidents at age 5, Betz declared she wanted to be the first woman president of the United States. "I was a dork," she said, "but [the Hall of Presidents] was awesome." She went straight from college to law school, then to work at Henderson Daily Withrow & DeVoe, a 25-person firm that closed five months after she started. "I was fortunate enough to immediately secure a job at Taft [then Sommer Barnard] and I've been here ever since." By then, being a strong litigator trumped her presidential ambitions.
Transitional moment: "When I made partner. I suddenly had more control over my schedule, was expected to develop my own business, and I was expected to delegate work to others and manage others … to suddenly be the person calling the shots. While it certainly was a daunting change, the freedom and flexibility of partnership is worth every headache."
Recent challenge faced: Shortly after being named co-chairwoman of the Gender Advancement Committee, she was asked to co-chair a women's symposium at an all-attorney retreat. "Some women were frustrated having to take time away from their practices to attend, while others were excited for the opportunity. After the event, the feedback was overwhelmingly positive, and we plan to host a similar event in 2018."
Givebacks: "When I was younger, I found myself stretched very thin and wasn't able to contribute meaningfully," Betz said. Now, she's more selective, being drawn to the board of Child Advocates of Marion County and the Women4Change Leadership Academy. She's also been a Girl Scout leader since 2013.
Favorite place in central Indiana: The Monon Trail. "It runs right behind our house, and I am on the trail multiple times a week, whether it is for a run or to walk into Broad Ripple with the kids for ice cream. It's like living in a park."•
Check out more 2018 Forty Under 40 honorees.
Please enable JavaScript to view this content.