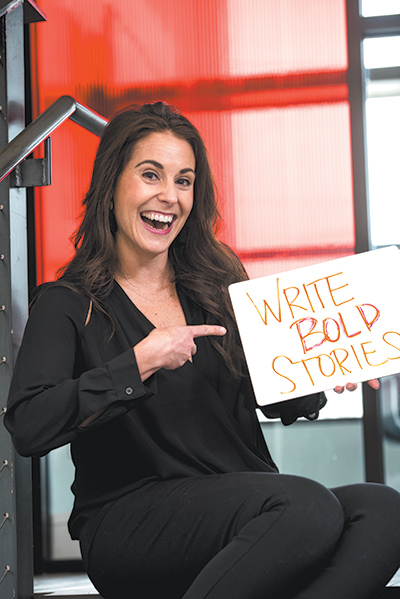 President
Element​ ​Three
Age: 37
Birthplace/hometown: Remington
Family: husband, J.R.​; children, ​Aubrey​, 9; Ainsley, 6; and Ivy, 2
Education: bachelor's in management from Purdue​ ​University ​Krannert​ ​School​ ​of​ ​Management
Years with company: 12
Getting here: "I grew up in an entrepreneurial home," she said. At 15, she and her sister had a roadside business selling mulch. After college, she worked as a financial analyst at Eli Lilly and Co. but had a yearning to go to work for herself. Like getting married and having kids, she said, it's "a thing you decide to do when you know nothing about it."
Transitional moment: Receiving​ ​HubSpot's​ ​Agency​ ​of​ ​the​ ​Year​ ​award. "​I​ ​knew​ ​at​ ​that​ ​moment​ ​that​ ​we​ ​could be​ ​good​ ​enough​ ​to​ ​compete​ ​on​ ​a​ ​national​ ​stage.​"
Major achievements: In addition to the above, Element Three was named to IBJ's ​Fast​ ​25​ and the Inc.​ ​5000​ ​for​ ​four​ consecutive​ ​years​.
Building credibility: "Four to five years, if I'm really being honest with myself," Sauder said when asked how long it took for Element Three to be taken seriously. "The growth was in chapters. We grew the first three years up to about 20 people to a little over $1 million in revenue. Then the recession hit and we were back to where we started. That's when I realized it's do-or-die time—either get clients that trust me with a bigger piece of the pie and projects with bigger consequences or I'm done. The next three years were an all-out sprint. Now we're growing super-fast. But we have mechanisms and tools to make sure that growth is intentional and not just the tail end of a whip."
Givebacks: Sauder serves on the boards ​of YPO, an organization for young professionals where she's the communications chairwoman; College Mentors for Kids, where she's the marketing chairwoman; ​Boys and Girls Club of Zionsville, where she's marketing chairwoman; and the Orr Fellowship. She's also hospitality lead for Indianapolis Apostolic Christian Church. "I don't access opportunities that I'm not 100 percent aligned with. Early, you chase the ego of being involved in a lot," she said. "but there's a season for things. I've accepted that and say no to a lot of things."•
Check out more 2018 Forty Under 40 honorees.
Please enable JavaScript to view this content.