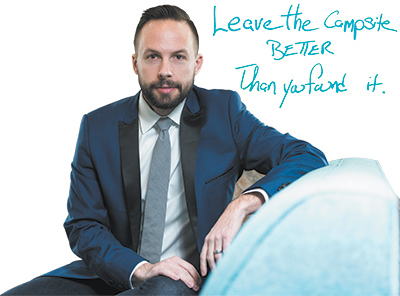 Executive Director
Indianapolis Symphonic Choir
Traditionally a lower-profile arts organization, under Pettry, the ISC launched a $3.75 million endowment campaign, broadcast its Festival of Carols internationally via PBS, released a commissioned recording, and quadrupled its annual budget.
Age: 35
Family: husband, John
Education: bachelor's in music from Ball State University, master's in music from Butler University
Years with organization: 14
Getting here: "This was my first job after college," Pettry said. "I started at the Symphonic Choir [as operations manager] during grad school. Over the years, expanding programming and staff allowed me to grow with the organization." His parents, he said, "weren't especially musical, but some of my earliest and fondest memories were driving down to see shows at Beef & Boards. I still remember saying, 'Maybe someday I can be in the pit directing or playing.'"
Inspirational moment: During a performance of the Berlioz Requiem at Circle Theatre, Pettry said, "I was in a seat on the aisle and had tears come to my eyes realizing how much I love being a part of this team."
Major achievements: Growing from an operating budget of around $250,000 to over $1.3 million. "That allows us to dream bigger, do more and present music at yet a higher level."
Recent challenges faced: The Indianapolis Symphonic Choir includes about 200 singers who each volunteer about 200 hours per year. "It's a huge commitment and there's a ceiling to the number of performances we can do each year." He added, "One of the greatest advantages is that these are people in the community making art together and doing it at such a high level."
Givebacks: Pettry serves as president of the Indianapolis Consortium of Arts Administrators and is a member of the Indianapolis Symphony Orchestra's Forte and The Recording Academy (aka the Grammy folks).
Favorite place in central Indiana: "Cycling on the Cultural Trail, sailing on Eagle Creek Reservoir, or flying in a small plane in the Hoosier skies."
Downtime: Traveling to explore grapes, vineyards and wine. "Beyond oenophilia, I tinker with my historic English racing car and still make it a point to play the piano a few times each week."•
Check out more 2018 Forty Under 40 honorees.
Please enable JavaScript to view this content.