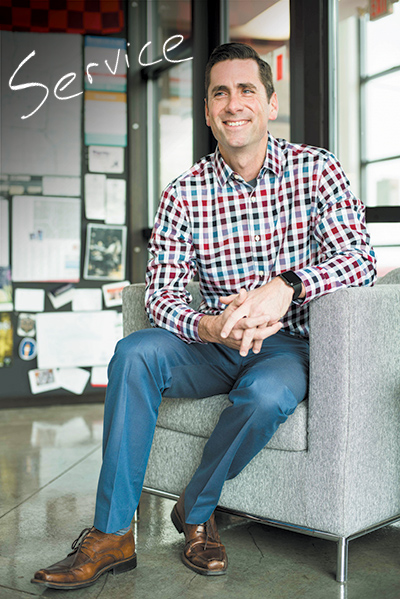 Associate Clinical Professor of Emergency Medicine
Indiana University School of Medicine
Chief Medical Director
Indianapolis EMS, IFD, IMPD
One of the first to graduate from an EMS fellowship offered by the IU School of Medicine, O'Donnell is medical director for the Indianapolis police and fire departments, while also serving on the front lines of the opioid battle.
Age: 39
Birthplace/hometown: Fort Wayne/Bloomington
Family: wife, Kyle; children, Gabby, 6; and Gavin, 2
Education: bachelor's in psychology from the University of Michigan, medical degree from Wayne State University School of Medicine
Years with university: 10
Getting here: "I've gone straight through from college to med school to residency to this," said O'Donnell, adding that he also worked at Jimmy John's while in college.
Inspiration: "Almost every year I have worked with public safety, I have been inspired. The collaborative nature of the leaders in public safety has provided me with the inspiration to do what I do."
Major achievements: Establishing the city's and the state's first all-inclusive cardiac arrest registry. He's also at the forefront of combatting the opioid epidemic. "Starting in 2013, we began training police officers in naloxone delivery. That has led to other projects such as Project POINT, which aims to link patients who present with opiate overdoses in the ER to treatment services."
Recent challenges faced: "My job requires me to represent many different agencies' interests. This can be a challenge at times. I am a big proponent of open dialogue and communication. That's how I work."
Saving lives: How many? "I can't guess," O'Donnell said. "We see a hundred thousand in the ER alone in a year. It's one of the things I like about emergency medicine. I can train paramedics to care for millions of people."
Opioid first response: "Five years ago, if you were to say to a police officer that, 'If you see an overdose, give Narcan,' people would think you were crazy. Now we do it on a daily basis. … The alternative would be to wait for an ambulance to arrive while someone is not breathing."
Givebacks: O'Donnell also trained paramedics in alternative health care and provides oversight for the Reuben Engagement Center of Indianapolis, a homeless shelter for the addicted.
Favorite place in central Indiana: Lions Park in Zionsville•
Check out more 2018 Forty Under 40 honorees.
Please enable JavaScript to view this content.