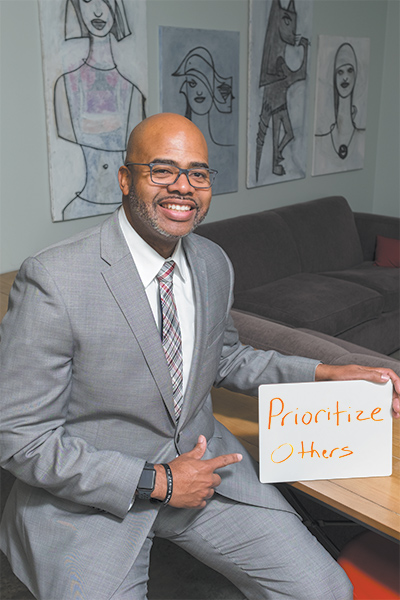 Director of IT, Global Services
Eli Lilly and Co.
Serving as national president of the Black Data Processing Association and as a trustee and deacon for his church, Morris is one of Lilly's leading tech lights.
Age: 39
Birthplace/hometown: Perry, Florida
Family: wife, Alicia; daughter, Maya, 12
Education: bachelor's in computer and information systems from Florida A&M University, master's in public affairs from Indiana University
Years with company: 17
Getting here: "I was working at a Little Caesars in high school and saved $500 to buy a computer," Morris said. "I didn't realize that a good one was $2,000." But the person he bought the computer from had an idea—a job creating web pages for local businesses, with half of each of his paychecks going toward purchasing the computer. "I wasn't looking for an IT job, it found me." While in high school, he did tech support for GulfNet Technologies, helping customers in 11 cities. Morris came to Lilly straight out of college after being introduced to the company via a diversity conference.
Inspirational moment: "At a very low point in my career about 10 years ago, a new supervisor chose to lift me up on blind potential. It gave me hope in the optimism of fresh starts."
Major achievements: Oversaw the IT development and expansion of Lilly's clinical operations information hub.
Recent challenges: Developing internal IT staff for future priority business and technology needs. "I listened to our leaders, the market and the employees regarding their needs and preferences. Then worked with a team to build a set of modern experiences to help our employees stay relevant and be developed in their areas of passion."
Givebacks: Morris serves as national president of Black Data Processing Associates, where his work includes creating a platform to grow youth interest in tech. "There's no shortage of consumption of tech. The shortage is the ability to translate those experiences into problem solving and outcomes." He's on the board of the Center for Congregations and advisory boards for Florida A&M University's Computer and Information Systems Department and the IUPUI School of Informatics and Computing's Diversity-Enhanced Workforce initiative. He's also a trustee and deacon at Mount Zion Apostolic Church.•
Check out more 2018 Forty Under 40 honorees.
Please enable JavaScript to view this content.