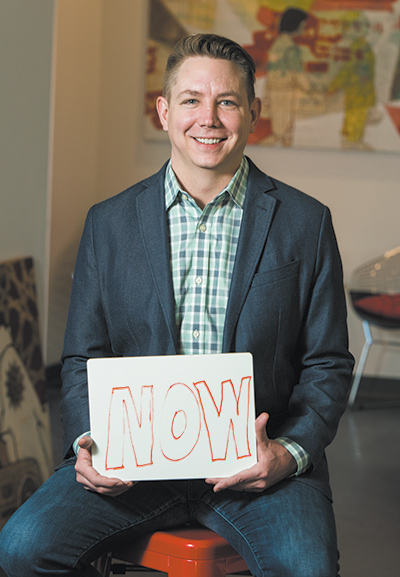 Co-founder
Pondurance
One of the state's leading cybersecurity experts, Lewis' "ethical hacks" have exposed vulnerabilities in a corrections facility, an in-flight entertainment system and a leading global law firm.
Age: 37
Birthplace/hometown: Crawfordsville
Family: wife, Jessica; children, Madeleine, 11; Judah, 8; and Nico, 2
Education: attended Indiana State University and IUPUI
Years with company: 7
Getting here: "I became interested in cybersecurity around 1998 when my parents' computer was hacked," Lewis said. "In 24 hours, I had rebuilt the computer." After two years at Indiana State, Lewis transferred to IUPUI and started working for—and making an impression on—businesses, including IBM . IBM quickly recognized and rewarded Lewis' technical acumen. That's when Lewis said he "hit the pause button on my academic roadmap." IBM led to Fifth Third Bank, Verisign, Midcontinent ISO, Digital Bon and Accuvant (now Optiv). "Once I gained my certification, my phone has yet to stop ringing."
Transitional moment: "Deciding to step into my power and build my own organization."
Major achievements: Launching the firm's Threat Hunting & Response security service at the Black Hat USA information security conference in Las Vegas.
Recent challenge: "We had a few challenges with communicating our vision to each other and our team. We hired an executive coach who has helped us gain clarity and define an approach that makes it easier to share and gain more frequent feedback, empower our management team, and build a platform for continuous improvement."
Exposed: How long would it take Lewis to find out something embarrassing about someone? "I would say 24 hours or less," he said. "Depends on what's on my schedule." To make it more difficult, he advised, everyone should "avoid clicking hyperlinks in email and enable two-factor authentication."
Givebacks: Lewis works with the Indianapolis chapter of the Open Web Application Security Project, is sector chief for InfraGard Indiana Members Alliance, and is on the Executive Council on Cybersecurity for the state of Indiana.
Downtime: Favorite places in central Indiana are Putnam Park Road Course, 100 Acres: The Virginia B. Fairbanks Art and Nature Park, and Brown County State Park. Hobbies include auto racing and mountain biking. "I'm taking my BMW M3 out tomorrow to turn some laps," he said.•
Check out more 2018 Forty Under 40 honorees.
Please enable JavaScript to view this content.