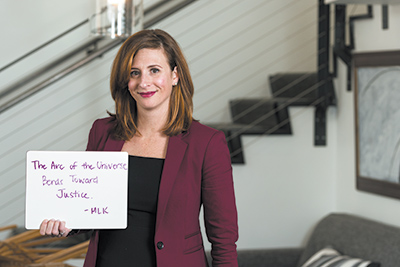 President & CEO
EmployIndy
Hired to create a new mission, vision and five-year strategy, Klitzsch raised $6 million for the organization and launched Mayor Joe Hogsett's Project Indy summer youth employment program.
Age: 39
Birthplace/hometown: Dayton, Ohio
Family: husband, Ryan; sons, Paxton, 11; and Shepherd, 6
Education: bachelor's in philosophy and history from the University of Notre Dame; master of public administration in nonprofit management and master's in philanthropic studies from Indiana University
Years with organization: 1-1/2
Getting here: Klitzsch spent time as a health education volunteer with the Peace Corps in the Republic of Moldova, then as a product manager at Washington D.C.'s Callahan & Associates. In Indianapolis, she was program associate for The Clowes Fund, director of community impact for the Central Indiana Community Foundation, and vice president and relationship manager for global philanthropy covering Indiana, Kentucky and West Virginia for JPMorgan Chase. "I didn't intend to stay [in Indiana], but so many professional and personal opportunities were made available, every time I was tempted, another pathway opened up here."
Transitional moment: "Moving into the private sector as part of JPMorgan Chase's corporate social responsibility team was an amazing growth opportunity. There was a steep learning curve … but I learned quickly how to couch my arguments and make recommendations for philanthropic investments that resonated with business leaders."
Major achievements: Launching Project Indy, raising $6 million in philanthropic funds and assisting the re-employment of 632 displaced Carrier workers.
Recent challenge: "Engaging a divergent group of stakeholders to develop a new strategic plan to guide our organization over the next five years that has significant community buy-in," she said. The process involved talking with more than 500 individuals representing private-sector employers, community and faith-based organizations, direct service providers, K-12 and post-secondary education institutions, WorkOne clients, etc.
Givebacks: A member of the IU School of Public and Environmental Affairs' Distinguished Alumni Council, Klitzsch also sits on the boards of the Coalition for Homelessness Intervention and Prevention and Indiana Afterschool Network. "I've pulled away a little bit as a way to ensure that there is a clear firewall between the work of EmployIndy and my personal involvements," she said. But not all of her work is that official. "I can sometimes do more good by being a connector to funding to support the mission rather than as a board member."•
Check out more 2018 Forty Under 40 honorees.
Please enable JavaScript to view this content.