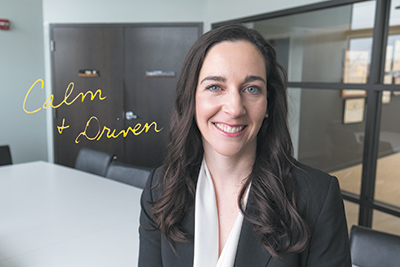 Vice President of Rose-Hulman Ventures and Corporate Engagement
Rose-Hulman Institute of Technology
By forging partnerships with businesses throughout the state, Hagerman connects Rose-Hulman's student talent pool to hands-on experiences, helping create the next generation of Indiana tech entrepreneurs.
Age: 39
Birthplace/hometown: Columbus, Ohio; St. Louis; Los Angeles ("I grew up in all of these cities so they all feel like my hometown.")
Family: single
Education: bachelor's in chemical engineering from Rose-Hulman Institute of Technology; master's and doctorate from UCLA, both in biomedical engineering
Years with organization: 5-1/2
Getting here: Internships took Hagerman to the West Coast, which is where, she said, "I started to define my direction." After grad school, she worked with Baxter Healthcare in multiple positions, leading to a job as senior medical affairs manager. While serving at a distance on the Rose-Hulman board, she was asked if she would come back to lead Rose-Hulman Ventures. Coming back, she said, "was the right decision. In this role I continue to learn new things everyday."
Transitional moment: "After being trained classically as a scientist, the first few months at Baxter working with management teams evaluating acquisition targets represented a huge transitional moment for me," she said. "For the first time, I experienced firsthand that not all major decisions are based in empirical scientific data. As a scientist, at first that seemed so wrong. But after I gained appreciation for the larger landscape of business, I really started to enjoy working on the bigger puzzle with less defined inputs, and it forever changed the way I consider situations and solve problems."
Major achievements: "I'm so proud of the way Rose-Hulman Ventures has experimented with additions to our core operational model for the sake of improving our business practices and extending our benefits to wider audiences. We've tested new ways to engage faculty in our engineering work with client companies, as well as tested models that allow students to incorporate their internship experience into their academic degree. We've also expanded Rose-Hulman's footprint to include an Indianapolis location at Union 525 [which opened in October 2017]. I view it as the beginning of what an Indianapolis engagement can be."
Givebacks: Hagerman serves on the boards of Indiana University Research and Technology Corp., TechPoint and the Terre Haute Symphony Orchestra.
Favorite place in central Indiana: Practice Indie yoga studio•
Check out more 2018 Forty Under 40 honorees.
Please enable JavaScript to view this content.