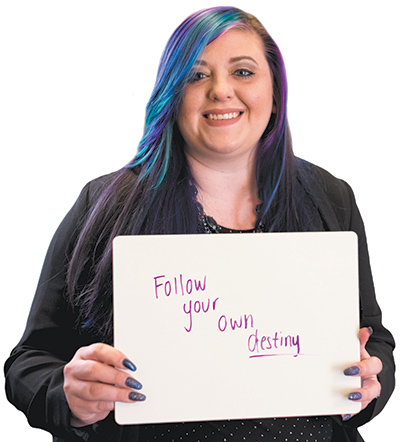 President and CEO
Sapphire Strategy
After working with such clients as Angie's List, Compendium and TinderBox, and being a recipient of TechPoint's inaugural Tech 25 award, Golding launched her digital marketing company while also keeping a busy schedule of speaking engagements and board work.
Age: 30
Birthplace/hometown: Schererville
Family: husband, Ryan
Education: bachelor's in marketing from Butler University
Years with company: 1
Getting here: Immediately after college, Golding went to work in digital marketing for Fusework Studios, then jumped to DK New Media, becoming a partner and vice president in 2015. She then launched her own firm.
Transitional moment: Speaking at a 2017 Fail Fest event in Indianapolis. "People are really afraid of [failure] in this age of social media, where everything is dispersed so quickly, but I love that we can talk about it," she said. "My first job went terribly. For me, that was one of the best things that could have happened. I knew I wasn't the right fit and what I needed to work on."
Major achievements: Starting her marketing firm with very little capital in a busy year. She and her husband had purchased a fixer-upper in December 2016 and she launched the business the next month. "I was turning 30 in September, and we were getting married at the end of September. Needless to say, it was a very busy year."
Recent business challenge: "Figuring out how to scale effectively. We're in the growing-pains stage, but it doesn't make sense to hire yet from a revenue perspective. I have an exact number that we need to hit in order to move forward with hiring our second employee. … Planning is in my nature, and the best way to deal with this challenge requires exactly that." 
Givebacks: Golding serves on the King Park Development Corp. board and is a 500 Circle Member with Pass the Torch for Women Foundation as well as co-chairwoman of the communications committee for the Indianapolis chapter of the National Association of Women Business Owners. She also served as co-president of the 1816 Board at the Indiana State Museum for two years.
Downtime: "I thoroughly enjoy 'Star Wars' conspiracy theories. Saturdays in my household are typically dedicated to going down the rabbit hole of 'Star Wars.'"•
Check out more 2018 Forty Under 40 honorees.
Please enable JavaScript to view this content.