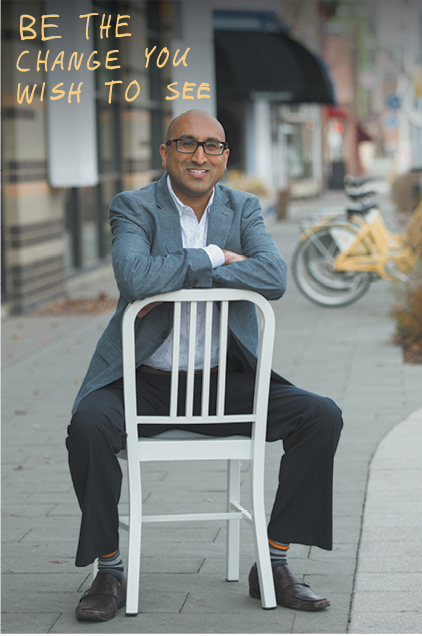 Chief Data Officer
State of Indiana
Executive Director
Management Performance Hub
Age: 38
Birthplace/hometown: Greenwood
Family: wife, Rebecca
Education: bachelor's in computer engineering from Purdue University, MBA from Indiana University Kelley School of Business
Years with state: 1
Getting here: Shah was bitten by the tech bug in middle school, helping teachers create lesson plans and crafting his high school's first web page. But he was also influenced by his physician father and family friends in the medical world. Drawn to Eli Lilly and Co., his stint there included time in Japan. After a hiatus for his MBA, Shah worked for Deloitte Consulting and then as executive vice president of operations for OurHealth before his current position was created by the state.
Transitional moments: Shah's move to Japan involved building a self-sustainable computer system validation team in nine months. "The experience motivated me to grow up and elevated me to an enhanced professional level very quickly." He also noted his experience with the Stanley K. Lacy Executive Leadership Series. "I was surrounded by 24 individuals who truly wanted to make a difference."
Major achievements: "Every agency across the state government runs almost like a separate company," Shah said. "It's important to connect data in order to identify new or unexpected solutions for the challenges facing the state. Our goal is to bring together the data and look for those solutions. The data is out there. It's about identifying it, harnessing it, cleaning it up, and having it talk to each other."
Recent challenge faced: "The foundational cultural shift that is required to build a coalition of support for broader data exploration. We've been working to drive real rubber-meets-the-road outcomes for our partners, both public and private, building the coalition in the process."
Givebacks: Shah serves on the board of Theatre on the Square. "I want to make sure that the arts don't leave Mass Ave," he said. "I don't want another bar or restaurant in that spot." He is also on the executive leadership team for the American Lung Association, championing its annual Fight for Air Climb.•
Check out more 2018 Forty Under 40 honorees.
Please enable JavaScript to view this content.