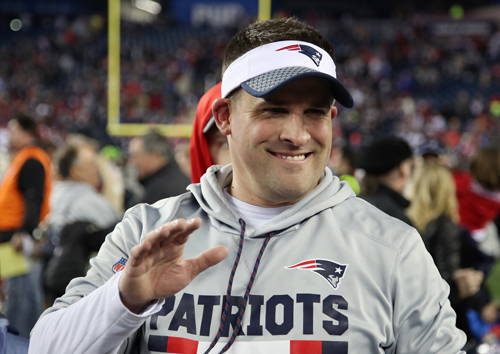 New England Patriots offensive coordinator Josh McDaniels has decided not to accept the Indianapolis Colts' head coaching job.
ESPN was first to report that McDaniels had pulled out of the Indianapolis job. The Colts confirmed the development about 8:30 Tuesday night.
"Although we are surprised and disappointed, we will resume our head coaching search immediately and find the right fit to lead our team and organization on and off the field," the team said in a statement.
The Patriots and McDaniels' agent, Bob LaMont, did not immediately respond to requests for comment.
"I'm speechless," former Colts receiver Reggie Wayne told NFL Network. "I've talked with people in the Colts organization and they feel like they've been hoodwinked."
According to ESPN, Patriots owner Robert Kraft sweetened McDaniels' contract and persuaded him to remain with the team. The Colts had scheduled a Wednesday news conference to announce McDaniels' hiring. No contract had been signed.
ESPN said McDaniels had been vacillating on his decision since meeting with the Colts on wild-card weekend and had been trying to get comfortable with taking his family out of New England and moving it to Indianapolis.
McDaniels, 41, has been one of the league's most coveted coaching talents since returning to New England as offensive coordinator in 2012. Since then, the Pats have reached six consecutive conference championship games and won two Super Bowls.
McDaniels' season ended Sunday on a disappointing note, as the Philadelphia Eagles defeated the Patriots in the Super Bowl, 41-33. The Colts had interviewed McDaniels twice in recent weeks for the position but were prohibited from making an announcement about McDaniels until New England's season was over.
McDaniels began his NFL coaching career as a personnel assistant for the Patriots in 2001. He became a defensive assistant in 2003 before being named quarterbacks coach in 2004 and offensive coordinator in 2005.
His previous experience as a head coach was with the Denver Broncos. He struggled to an 11-17 record in 2009 and midway through the 2010 season with Denver, where he didn't have a franchise quarterback.
He wound up as the St. Louis Rams' offensive coordinator in 2011 before returning to New England.
The Colts job opened Dec. 31 when owner Jim Irsay fired Chuck Pagano within hours of the end of the season. Pagano was in charge for six seasons, and Indianapolis missed the playoffs each of the last three.
By spurning the Colts after they waited 22 days to hire him, McDaniels leaves the reeling franchise as the only one without a coach. New England defensive coordinator Matt Patricia left Belichick's staff a day after the Patriots' Super Bowl loss to become coach of the Detroit Lions.
Indy had interviewed several candidates for the job, including two that were hired by other teams—Matt Nagy went to Chicago and Mike Vrabel to Tennessee. Another potential candidate, Baylor coach Matt Rhule, had already announced he was returning to the college ranks before the Colts had settled on McDaniels.
And turning down his second chance, after agreeing to a deal with Indy, could make other teams outside of New England more hesitant to hire McDaniels. His decision will also have ramifications for the coaches who were set to join his staff.
The move by McDaniels was reminiscent of his mentor, Belichick, who resigned as coach of the Jets with a handwritten note less than a day after he was hired in 2000.
Although McDaniels never signed his contract with Indianapolis, his stint was even shorter. The team announced his hiring in on its Twitter account late Tuesday morning. Hours later, the Colts had deleted the tweet and replaced it with the statement about his withdrawal.
McDaniels has long been considered one of the best offensive minds in football and a top-tier head coaching candidate, although his previous head coaching stint with Denver ended badly. He went 8-8 with the Broncos in 2009 and 3-9 in 2010 before he was fired with three games left in the season.
Please enable JavaScript to view this content.