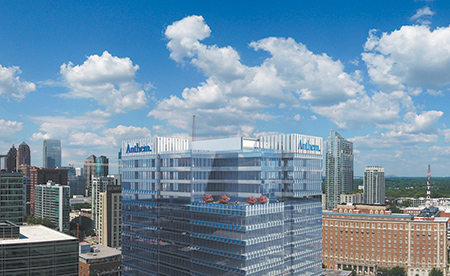 At Anthem Inc.'s headquarters on Monument Circle, executives will soon start packing up their desks and clearing out of the high-profile building, the company's home base since the 1990s. They will cart their belongings about a mile southeast to the company's operations center on Virginia Avenue—a move that will combine Anthem's two downtown offices under one roof.
But about 500 miles south, another real estate story is about to unfold that raises questions about Anthem's long-term commitment to Indianapolis as its headquarters city.
On Feb. 21, Anthem will break ground in Atlanta for a soaring, 21-story office tower called the Anthem Technology Center. The $150 million project, announced last year, will include outdoor terraces, a fitness center, tech bar, hangout spaces on every floor, and nearly 8,000 square feet of retail.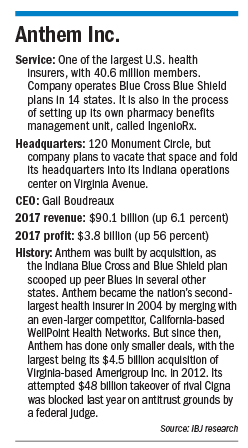 It will be a head-turning skyscraper, just south of Atlanta's bustling Tech Square, a walkable, bike-friendly, urban, mixed-use district that is attracting young workers, shoppers and residents.
When it is completed in two years, the gleaming tower will house about 3,000 Anthem workers, including hundreds of new hires. That will give Anthem a bigger corporate presence in Atlanta than in downtown Indianapolis, which now has about 2,400 workers. (The company says it has several hundred additional workers in the Castleton area who process Medicare claims, and an unspecified number of others who work from home.)
In a statement, Anthem called the Atlanta Tech Center "an important part in our pursuit of transformative health care solutions."
But when asked several times if Anthem was committed to keeping its corporate headquarters in Indianapolis, or was considering moving the headquarters to another city, the company declined to answer.
"We are not commenting further," Anthem spokesman Eric Lail wrote in an email to IBJ.
It's a stark contrast to the early 2000s, when Anthem rarely passed up the opportunity to declare its commitment to Indianapolis. Even as company leaders engaged in a flurry of acquisitions over the past two decades, including 13 of its Blue Cross counterparts in other states, they insisted that Indianapolis remain the corporate headquarters.
"It was a non-negotiable with me," said Ben Lytle, CEO of Anthem from 1989 to 1999, and chairman until 2003. "I wasn't willing to do a merger if it meant moving the headquarters."
Lytle said he was proud of Indianapolis, with its pro-business climate and a tradition of bipartisan support for growing companies. He said one of his main goals while building Anthem from a sleepy, one-state health insurer to an industry leader was to keep the company rooted here.
"I had to convince the boards and the CEOs and regulators of other states that there was a compelling reason to keep it in Indiana," Lytle said in a phone interview from his retirement home in Phoenix. "And I did."
He did it, in part, by showing that Anthem's executive leadership and board members, many of whom lived in Indianapolis, shared his goal. Over the next decade or so, the company kept true to that aim.
Losing local flavor

In 2000, four of Anthem's 12 directors lived or worked in Indianapolis: Larry Glasscock, Anthem's CEO and director who would later become chairman; Susan Bayh, attorney and former Indiana first lady; Allan B. Hubbard, an Indianapolis entrepreneur; and William G. Mays, Indianapolis business owner and publisher.
Today, none of Anthem's 10 directors has a strong Indiana connection.
The company called the issue unimportant, and said the board's composition "reflects our efforts to attract and recruit the best talent with skill sets which align with our position as a national player in the health care industry."
"The place of residence of our directors is irrelevant and does not demonstrate a lack of commitment to Indianapolis," said Lail, the company spokesman.
Indeed, some corporate experts say it's normal for companies to winnow their local connections once they grow from small, local operations to big national players.
Anthem traces its roots to the mid-1940s, to two small newly formed policyholder-owned insurance companies, Mutual Hospital Insurance and Mutual Medical Insurance. They merged in 1985 and became The Associated Group.
The company changed its name to Anthem in 1996, but remained policyholder-owned until it went public in 2001.
"Businesses may be local when they're formed, but if they grow and serve a national area, they have more of a national bent to them, whether it's on the board or where they're located," said Charles Elson, director of the Center for Corporate Governance at the University of Delaware. "It happens all the time."
But the shifting makeup of a board can influence its priorities. It might seem hard to imagine that today's Anthem board would have insisted on the unusual provision the board in 2003 negotiated into its $16 billion purchase of WellPoint Health Networks.
By almost every measure WellPoint was bigger. It had more members (14 million, versus Anthem's 12 million), higher annual revenue ($19.4 billion, versus Anthem's $16.5 billion) and fatter profits ($843.7 million, versus Anthem's $737.4 million). Each company had about 20,000 employees.
But where would the combined companies be headquartered? Under the terms of the deal, Anthem demanded that Indianapolis be the headquarters for 10 years, unless 80 percent of the board voted to move to a different city.
Both sides agreed, even as the combined company briefly took WellPoint's name in deference to the California operation.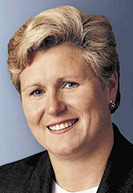 Boudreaux
But the Indianapolis headquarters provision expired in 2014, and the board is no longer under any obligation to keep the company here.
Dispersed management
For decades, Anthem's top executives lived year-round in Indianapolis, and even retired here. Glasscock, CEO from 1999 to 2007, still lives in Indianapolis. So does Angela Braly, who succeeded him, serving as CEO until 2012.
But Joseph R. Swedish, CEO from 2013 to 2017, kept his primary home, a three-bedroom house in Silverthorne, Colorado, and took an apartment at the Residences of CityWay on South Delaware Street, according to WhitePages.com, a provider of online directory services.
Swedish was succeeded last fall by Gail Boudreaux, an industry consultant and former CEO of UnitedHealthcare, the biggest unit of Minnesota-based UnitedHealth Group, the nation's largest health insurer.
Lail, the company spokesman, said Boudreaux has moved to Indianapolis. John Gallina, chief financial officer, and Jacquelyn Wolf, chief human resources officer, also live here.
But several others live out of state, including Gloria McCarthy, chief administrative officer (Blauvelt, New York); Peter Haytaian, president of the government business division (Little Silver, New Jersey); Brian Griffin, president of the commercial and specialty business division (Allenhurst, New Jersey); Tom Miller, chief information officer (Atlanta); Craig Samitt, chief clinical officer (Paradise Valley, Arizona); and Thomas Zielinski, general counsel (Newbury Park, California), according to an IBJ records search. Anthem declined to confirm or comment on the findings.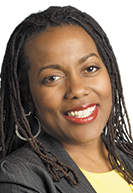 Jones
Such arrangements are far from uncommon in corporate America. For example, Simon Property Group Inc. CEO David Simon, although from Indianapolis, now lives in New York City. And new CNO Financial Group CEO Gary Bhojwani lives in Chicago.
What's ahead?
Some Anthem observers say they haven't heard chatter about a headquarters move, but said they wouldn't rule it out.
"A new CEO, a new regime," said Vishnu Lekraj, a health care analyst at Morningstar Research Services in Chicago. "It wouldn't surprise me if some things change."
If Indianapolis officials are concerned, they are keeping it to themselves.
  Angela Smith Jones, deputy mayor of economic development, called Anthem a "critical corporate citizen."
"We are heartened by the company's commitment to maintain their downtown presence at a new consolidated headquarters," she said in a statement. "We have also made clear to Anthem leadership that, as their local and national business plans naturally evolve, Indianapolis will continue to be a city that stands ready to respond."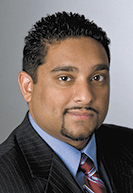 Lekraj
But it's unclear whether the city or state had a chance to compete for Anthem's multimillion-dollar technology center about to go up in Atlanta. Did Indiana officials even know about the project before the company announced it Oct. 12?
The Indiana Economic Development Corp. declined to answer that question, saying all project negotiations are confidential.
"We are proud to be home to Anthem's corporate headquarters, and also understand the need for large corporations to grow and diversify their operations, whether that be through services, clients or locations," IEDC said in a recent statement to IBJ.
Indy Chamber CEO Michael Huber said the company has remained committed to local causes.
"We're actually doing more with them now than we were a few years ago," he said. Huber pointed out that Rob Hillman, president of Anthem Blue Cross and Blue Shield in Indiana, the insurer's statewide operation, chaired the Indy Chamber in 2015.
Another local Anthem executive, Rick Rhodes, regional vice president of sales for Anthem's Indiana operation, also serves on the chamber's 127-member board.
Bryan K. Brenner, CEO of FirstPerson, an Indianapolis-based benefits brokerage, said he crosses paths regularly with employees of Anthem's Indiana operation but not its top brass.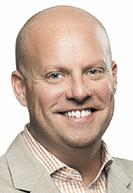 Brenner
"We're one of their top three producers in Indiana," Brenner said. "They've never shown any interest in connecting with us or reaching out to us. It's not like dealing with Lilly or Cummins or OneAmerica—they're very engaged. You see their corporate people everywhere."
Michael Smith, who retired as Anthem chief financial officer in 2005, said he sees no reason for worry.
"I run into other [Anthem executives], and I've never heard any conjecture that they would leave," Smith said. "I'm looking at things positively. I think we've got some momentum in the city, and I think we've got a good corporate citizen that will be here for a long time."•
Please enable JavaScript to view this content.