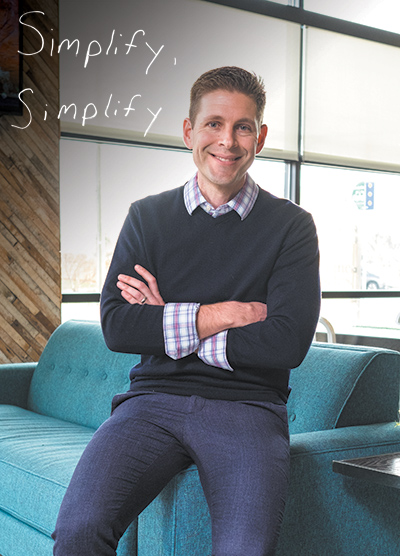 Associate Professor of Health Policy and Management
Indiana University Richard M. Fairbanks School of Public Health
Research Scientist at Center for Biomedical Informatics
Regenstrief Institute
Studying pain in Olympic athletes and trying to find weapons in the battle against opioid addiction, Harle leads a research team focused on finding real solutions to real problems.
Age: 36
Birthplace/hometown: Rockledge, Florida 
Family: wife, Cassie; children, Cate, 6; Charlotte, 4; and Clara, 2
Education: bachelor's and master's in decision and information sciences from the University of Florida, doctorate in information systems and management from Carnegie Mellon University
Years with university: 2-1/2
Getting here: Harle coordinated statistical research at the Institute for Child Health Policy at the University of Florida. After graduate school, he returned there to serve as assistant professor of Health Services Research, Management and Policy.
Inspirational moment: "There's no one moment," he said. "Since I was a child, I was always dedicated to learning as much as I can and using that to—hopefully—teach and help those around me."
Major achievement: Receiving the IUPUI Research Frontiers Trailblazer Award. "It was great validation that the projects my team is working on really matter … that we might produce solutions that impact the community, health care providers and patients."
Recent challenges: "I face the same problem in different forms all the time," he said. "Teams function poorly and don't achieve their objectives because the members don't have or don't take the time to get to know each other and to understand each other's strengths, weaknesses, constraints and experiences. As a leader … I'm frequently trying to find ways to break down barriers. Effective research isn't all about the facts and data and methodology. It's also about managing a team."
Facing the problem: "[The public doesn't] fully appreciate the complexities of substance-abuse disorders, addiction and what the health care system goes through to take care of people," Harle said. "We're dealing with people who have complex, chronic pain conditions. It's not a matter of just cutting off supply."
Givebacks: Harle serves on the board of Avnee Foundation for Pediatric Healthcare in Gainesville, Florida, and is a volunteer at West Clay Elementary School. "If I can do service while spending time with my kids and being a model for them, that's a double win."•
Check out more 2018 Forty Under 40 honorees.
Please enable JavaScript to view this content.