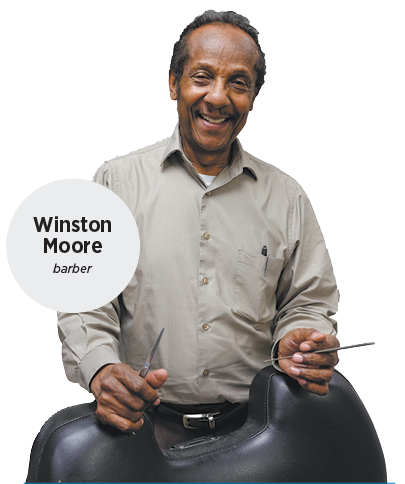 Winston Moore, 71, has been cutting hair and telling stories in the basement of Regions Tower (also known as One Indiana Square and the city's first skyscraper) since 1971—except for a six-year break when he moved to California. His customers have included mayors, sheriffs, bankers, athletes and lawyers.
Have you ever seen a deal take place right in front of you?
Oh, yes, I've seen a few. Once, I had a lawyer in the chair, and another lawyer came in and said, "Where are we on this?" Then they conferred about the case and started working out the details.
What's your policy on sharing information from one customer to another?
I try not to do that, because it puts people on the spot. We're like your priest or your bartender. We hold information with the utmost confidence.
But when a big event breaks, you hear about it pretty fast, right?
Oh, yes. People think we're talkers in the hair industry. So when they want something broadcast, they generally bring it to us, because we'll reach more people than Channel 8.
What's it been like to watch the downtown grow up?
For a long time, Indianapolis was a day city. You got downtown early, and then by 5 o'clock, everyone was gone. You'd almost think it was a ghost town. There wasn't a lot of activity. I don't think people were even excited by the prospect of it. They were OK with it as it was.
You work in the city's oldest skyscraper. How has the building changed over the decades?
Originally, Indiana National Bank owned the building and filled 15 floors. Now there's mostly lawyers in the building. Over half of my customers are lawyers.
Didn't there used to be a few restaurants under this roof?
At one point, we had the Vault [a cafeteria], the Teller's Cage [bar and eatery], La Tour [French restaurant on the top floor] and a bank cafeteria on the fifth floor. Now, they're all gone.
But you've seen a lot of development over the years, too.
More than I could count.
How did you get into this business?
Well, initially, I was going to school, studying business and accounting. It was an era when most accounting practices were done manually, and you were pretty much isolated. It seemed boring. So I got into doing hair. It seemed a lot more fascinating. You're always going to be learning something from everyone who comes in the door.
You must see all kinds of political views and backgrounds—how do you negotiate them?
We were always taught there were two things you don't discuss: politics and religion. They're such sensitive areas, and things can explode in a heartbeat. I've been very careful.
Any plans to retire?
It won't happen until I get my kids off the payroll, and it doesn't look like it's going to happen anytime soon.•
(IBJ photo/Eric Learned)
 
Please enable JavaScript to view this content.