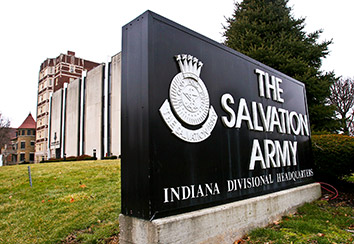 The Salvation Army is preparing to move its state headquarters from 3100 N. Meridian St. as part of a deal struck with the adjacent Children's Museum of Indianapolis to buy the property.
Both the children's museum and Salvation Army on Monday announced the agreement, which stems from a dispute between the two neighbors over the museum's $38.5 million sports park project that opens March 17.
"We are pleased to resolve this issue with our neighbor, and to acquire an adjacent property," said Jeffrey H. Patchen, the museum's president and CEO, in a joint statement with the Salvation Army.
Robert A. Webster, divisional commander for the Salvation Army's Indiana Division, said the outcome is positive for both organizations, and "we look forward to announcing plans for a future Indiana divisional headquarters soon."
Neither organization responded to follow-up questions about the settlement.
IBJ reported that the Salvation Army in August reached a preliminary settlement with its neighbor after suing the children's museum in May, claiming the museum's planned sports-related attraction would interfere with its property rights and ability to conduct operations.
In its lawsuit, the Salvation Army said it has easement rights for the park property owned by the museum that allow it access to Illinois Street and give it overflow parking rights.
The museum's Riley Children's Health Sports Legends Experience is set to open March 17. The 7.5-acre attraction, which wraps around the Salvation Army's property, boasts 12 outdoor and three indoor exhibits that include activities from a variety of sports.
The Children's Museum of Indianapolis was created in 1925 and moved to its current location at 3000 N. Meridian St. in 1946. The facility, which is the nation's largest children's museum, encompasses 472,900 square feet under roof and houses 120,000 artifacts.
Please enable JavaScript to view this content.