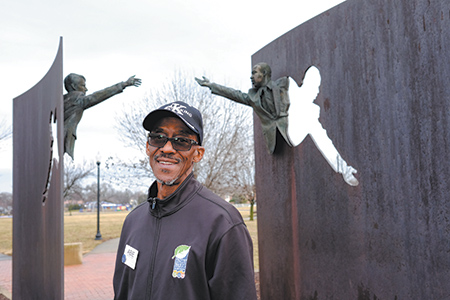 Martin Luther King Jr. Park could soon receive a makeover, new programming and a federal historic designation, all meant to encourage more visits to the place where—50 years ago—Robert F. Kennedy announced the assassination of Martin Luther King Jr.
Indiana's congressional delegation is pushing to gain national recognition for the site, which sits at the southern end of the park at the corner of 17th and Broadway streets.
And in a separate effort, a group called the Kennedy King Memorial Initiative is working to raise hundreds of thousands of dollars to improve the park and develop related programming.
The park's manager, Abie Robinson, was there on April 4, 1968, when Kennedy delivered the shocking news that King had just been killed.
Robinson, then a 24-year-old Navy veteran, felt immediate anger, but his heart softened as Kennedy urged the crowd to reject violence and instead show love and compassion.
"My emotions swung from one extreme to the other in the duration of his speech," Robinson said. "It made sense, what he was saying."
Indianapolis escaped the rioting that erupted in other cities following King's death, and Kennedy's speech is credited as a reason why.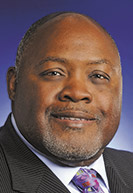 Porter
The corner where Kennedy spoke is now marked by a historic sign plus a nearby memorial sculpture known as the Landmark for Peace, which was designed by Indianapolis writer Greg Perry with Indianapolis sculptor Daniel Edwards. It was unveiled in 1995. The memorial depicts Kennedy and King emerging from separate walls to reach out to each other.
Now, the objective is to boost the site's profile further.
"Our whole goal is to really preserve a national treasure and establish the site as a historical site," said State Rep. Greg Porter, D-Indianapolis.
Porter's district includes the Kennedy-King neighborhood where the park is located. Porter is also chairman of the Kennedy King Memorial Initiative.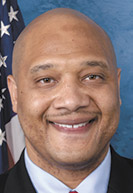 Carson
In January, U.S. Rep. Andre Carson introduced legislation that would designate a portion of the park as a National Historic Site within the National Park Service. Carson's bill has bipartisan support from 23 House co-sponsors, and on Feb. 15, Carson and Porter spoke in support of the bill at a House committee hearing.
Sen. Todd Young, a Republican, has introduced a companion bill in the Senate, with Sen. Joe Donnelly, a Democrat, as co-sponsor.
Carson said he's optimistic that the bill could pass in time for the anniversary of Kennedy's speech. "We're trying to expedite the process by April 4."
Martin Luther King Jr. Park is managed by the Indianapolis Department of Parks and Recreation.
That department's director, Linda Broadfoot, told IBJ it's too early to say what could change at the park if it gains national recognition. "We don't yet know," she said.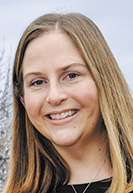 Broadfoot
But Robinson is optimistic that national historic status would boost visitation.
Robinson has met park visitors who live outside of Indianapolis—even out of state—but who came because of the Kennedy history. If the site becomes part of the National Park System, he reasons, even more people will know about it.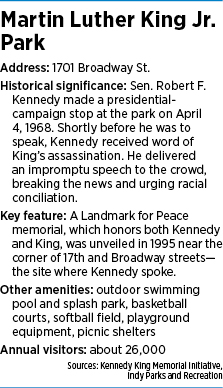 It's far from certain whether the National Historic Site designation will come to pass. But in the meantime, the Kennedy King Memorial Initiative is working on plans of its own.
The group has already raised $100,000 for exterior upgrades to a building south of the memorial—a new patio, landscaping and other improvements. And efforts are ongoing to raise hundreds of thousands of dollars more for interior improvements, programming and operational needs.
"Our vision is multifaceted," said Amy DiStaulo, interim executive director of the Kennedy King Memorial Initiative.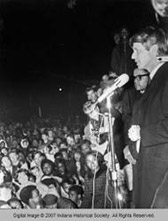 Instead of a planned presidential campaign speech to an Indianapolis crowd on April 4, 1968, Robert Kennedy announced that Martin Luther King Jr. had just been assassinated. Kennedy then gave an impromptu speech calling for peace. (Photo courtesy of Indianapolis Recorder Collection, Indiana Historical Society)
Most immediately, DiStaulo's group is working to raise $139,000 to cover the costs of anniversary commemorations, including both an April 4 event at the park and associated pre-events. U.S. Rep. John Lewis, a civil rights icon who was present at Kennedy's speech, is expected to take part in the April 4 activities.
Another part of the vision includes opening a visitors center within the existing park building, adding programming on topics related to the site, and hiring a permanent staff. DiStaulo's group is working to raise $208,000 for those projects.
A separate effort, DiStaulo said, will involve raising money for structural upgrades to the park building, including its plumbing. She said that work could cost another $500,000, though she is still working to get estimates.
DiStaulo's contract to oversee the Kennedy King Memorial Initiative runs through the end of this year, and she said her goal is to have funding sources identified by that time.
The timing, she conceded, depends on the size of the donations she can land.
"There are some funding sources that I'm pursuing right now that would be for significant amounts of money that could just make it happen," DiStaulo said. If those don't come through, the fundraising process could take longer.
Another entity with an interest in the park's improvements is the King Park Development Corp., a community development organization that covers the Kennedy-King neighborhood and six others nearby.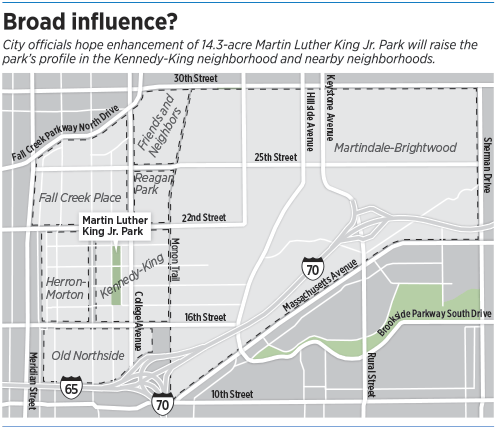 "The park serves as a way to bring different neighborhoods together, and really tries to embody the vision that Robert F. Kennedy and Martin Luther King Jr. had," said King Park Executive Director Steven Meyer. "This has been a true partnership from a lot of different people that are very interested in preserving the history and support what's happened here."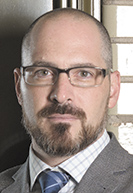 Meyer
Meyer described Martin Luther King Jr. Park as a "hidden gem" that is easy for outsiders to miss, despite its 14-acre size. Though just a block west of busy College Avenue, the park is barely visible from that main road.
Improvements will also help make sure the park can keep pace with its surroundings, Meyer said. "These neighborhoods around the park have been going through significant change over the last 20 years."
Development and investments in the area started in the early 2000s with Fall Creek Place, later spreading to the Herron-Morton and Kennedy-King neighborhoods.
Within the past few years, the area has seen a slew of new and redeveloped homes, along with new businesses and commercial development. Recent projects have included the Tinker Flats building at the corner of 16th Street and the Monon Trail and The Delaware apartments at 2205 N. Delaware St.
"There's just a lot of change that is going on. There's a lot more interest in the area itself," Meyer said. "You can, almost on a weekly basis, drive through the neighborhood and see something that has changed."
Robinson, who said the impact of Kennedy's Indianapolis speech resonates with him to this day, acknowledged that change is inevitable and that the makeup of the neighborhood has changed.
At the same time, he said, "this memorial—and what it means—should not be lost."•
Please enable JavaScript to view this content.