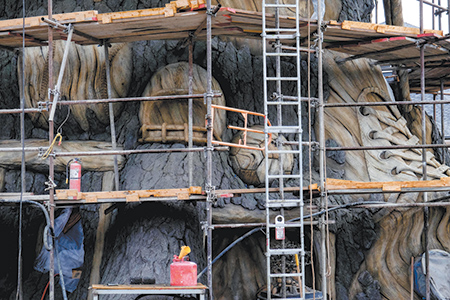 The Children's Museum of Indianapolis is hoping for a big attendance bump from its $24.5 million outdoor attraction that's slated to open next month.
Called the Riley Children's Health Sports Legends Experience, the 7.5-acre expansion boasts 12 outdoor and three indoor exhibits that include activities from a variety of sports, giving families more reason to visit during the warmer months.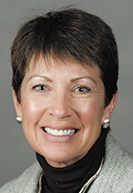 Townsend
"Weather certainly is a factor in our attendance," said Lisa Townsend, the museum's vice president of marketing and external relations. "So, we are hoping that when we have really beautiful spring and summer days, people are going to think more about the Children's Museum, whereas in the past they may have chosen to do something else, outdoors."
The museum annually attracts about 1.2 million visitors, Townsend said. Its biggest year ever was 2009, when the special exhibit of "Tutankhamun: The Golden King and the Great Pharaohs" helped lure more than 1.31 million visitors.
Townsend declined to speculate on how much of an attendance boost the museum might receive from the Sports Legends Experience, opening March 17. But tourism experts familiar with the attraction think visitor numbers could swell to as much as 1.5 million this year.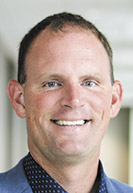 Pierce
"This is a significant addition to the facility; this isn't just a new exhibit coming into the same old exhibit hall," said David Pierce, associate professor of sports management at IUPUI's Sports Innovation Institute. "It's a completely new experience."
Museum officials tapped into donors and sponsors to raise the $38.5 million for the complex. Of that, $24.5 million went to create the attraction; the remaining $14 million will seed the Sports Legends Experience endowment, to cover ongoing maintenance costs.
The Children's Museum was created in 1925 and moved to its current location at 3000 N. Meridian St. in 1946. The facility, which is the nation's largest children's museum, encompasses 472,900 square feet under roof and routinely draws visitors from surrounding states, making it a regional destination.
Vehicles sporting Illinois and Ohio license plates were particularly numerous on Feb. 19, or President's Day—one of the museum's busiest days because admission is free and most schools are closed.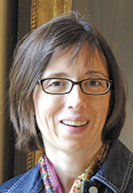 Wilkening
The new sports attraction "is not going to double the attendance, but it should give [the museum] a little boost that they should be able to sustain," said Susie Wilkening, who operates the Seattle-based museum consultancy Wilkening Consulting.
What could help even further is the museum's decision to keep the outdoor attraction open until 8 p.m.—past the museum's normal 5 p.m. closing. The longer outdoor hours will be offered Thursday through Saturday until Memorial Day weekend, then daily through Labor Day.
Tickets for both the museum and outdoor experience range from $16 to $37, depending upon how far ahead they're purchased, Townsend said. The museum in February 2017 took a page from the Indianapolis Zoo and changed its admission pricing model to reward visitors for planning and buying ahead.
Tickets for just the outdoor experience can be purchased for under $10 but are good only from 5-8 p.m.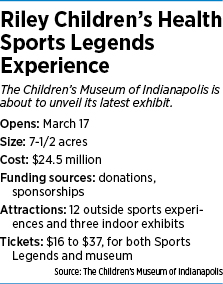 Museum officials wouldn't discuss how much of a revenue boost they expect from the attraction. In 2016, the latest year for which financials are available, The Children's Museum had income of $33 million.
It's the museum's $300 million endowment that covers the largest share of expenses. In 2016, 43 percent of income came from the endowment. The next-largest chunk, 37 percent, came from admissions, memberships and museum tours. The remaining 20 percent came from donations, the museum store and restaurant, and other sources.
Townsend said Sports Legends Experience has yet to translate into a big bounce in ticket sales because promotional efforts haven't started.
"I have every confidence, as that marketing campaign launches, and as we get a little closer to our actual opening, we'll see more activity," she said.
At least one hotel already is looking to capitalize on the attraction. The Indianapolis Marriott Downtown has begun offering a package that includes four tickets (two adults and two children) to the sports experience with an overnight stay.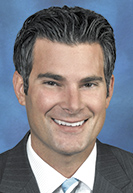 Gahl
Visit Indy also plans to begin hyping the museum's newest addition by incorporating it into a regional marketing campaign that will target 10 cities, stretching from Louisville to Chicago and Cincinnati to Detroit, Visit Indy Vice President Chris Gahl said.
"The Children's Museum of Indianapolis is a key driver for Indy tourism, year in and year out," he said. "Anytime [it] can add additional experiences, it only helps Visit Indy increase tourism numbers."
The new attraction is just north of the current museum on what was a surface lot and the former site of The Whitestone apartments.
Construction crews are still working on parts of the complex, but the components are taking shape and many are finished.
The attraction includes activities from baseball, basketball, football, golf, hockey, motorsports, running, soccer and tennis, with sections dedicated to teams including the Indianapolis Colts, Indiana Pacers and Indiana Fuel.
An Avenue of Champions will feature a dozen sports figures with Indiana ties immortalized with life-size bronze sculptures. A committee selected basketball luminaries Larry Bird, Tamika Catchings, Bobby "Slick" Leonard, Reggie Miller and Oscar Robertson; golf-course designers Pete and Alice Dye; racecar driver A.J. Foyt; soccer player DeMarcus Beasley; hockey player Wayne Gretzky; track-and-field star Wilma Rudolph; Indianapolis Colt Reggie Wayne; tennis advocate Barbara Wynne; and the Indianapolis Clowns of the Negro American League.
One of the more interesting aspects of the outdoor complex is The Children's Museum Guild's Fantasy Tree of Sports—a 60-foot faux tree inspired by Disney's Tree of Life. Instead of carvings of animals, the museum's tree features carvings of sports equipment.
Children can climb the tree, from a spiral staircase and elevator inside the trunk, and look out on platforms protected by netting. They can descend the tree from three slides, also inside the trunk.
Meanwhile, the three indoor exhibits will be housed in a 15,000-square-foot addition containing the History of Hoops gallery space, the National Art Museum of Sport and more, including a Hot Wheels exhibit in the motorsports garage.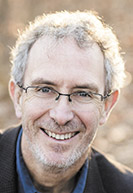 Day
The art museum's 1,000 works had been on display on the IUPUI campus but have been in storage at NCAA headquarters since the art museum vacated the former University Place Conference Center and Hotel in 2013.
Taking on the art collection prompted the museum to extend the size of the indoor wing, which increased the overall cost of the attraction by $3.8 million, Townsend said. Pieces from the collection will be rotated into display.
Contributions and sponsorships paid for the attraction, which—like the museum's existing attractions—plays into the trend of museums offering more interactive activities. It's not about observing; it's about participating.
"This outdoor attraction that allows people to interact rather than looking at experiences behind glass cases really is the future of museums," said Jonathon Day, a professor of hospitality at Purdue University. "This is going to take it to a new level."•
Please enable JavaScript to view this content.