Top Honoree: Non-physician
Paige Dooley
Community Hospital East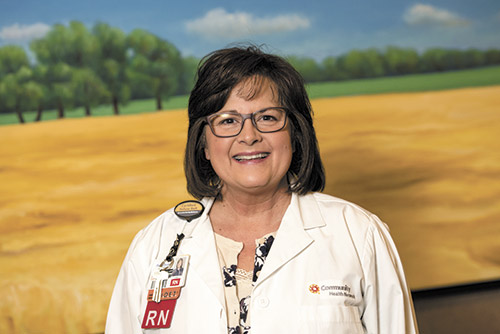 Paige Dooley's enthusiasm and work ethic are hallmarks of her more than three decades of nursing.
Paige Dooley is, by all accounts, an excellent nurse, but it's not her clinical know-how nor her job title that makes her shine at Community Hospital East.
Dooley, the chief nurse executive at Community East, is best known among patients and co-workers for the work ethic, compassion, kindness and enthusiasm she's demonstrated day after day the last 30 years.  
"She's first to arrive and last to leave" and "has a heart the size of Texas," said Dr. John Kunzer, senior vice president and regional physician executive for Community Health Network. 
Dooley, 53, almost took a very different career path. Entering her senior year in high school, she was planning to study accounting in college, but a friend pointed out there weren't many women who advanced to top jobs in that field.
She began to reconsider her choice—and saw the obvious signs pointing to nursing. Dooley's mom and two aunts were nurses, and Dooley is a people person. "I've always kind of liked people who have problems," she said. 
A late admission to the University of Indianapolis and four academic degrees later, Dooley is one of the chief problem solvers at Community East, where her work seems to touch everyone in the building. 
The day Kunzer started at Community East, Dooley was his tour guide. It was an experience that left a lasting impression.
"As we walked and talked, Paige would pick up pieces of paper on the floor, ask the person walking slowly in the hallway if they needed help, went into a patient's room to check on a bedside alarm, hugged an environmental worker and thanked her for how clean the area looked, greeted everyone by name, and asked nurses and doctors how they were doing and if they needed anything."
Kunzer said the enthusiasm he felt for health care after taking the tour made him feel like a third-year med student.
For inspiring Kunzer and others at Community East, Dooley is the top honoree in the Health Care Heroes non-physician category.
Her "get things done" attitude showed early in her career. Six weeks after joining Community East's nursing staff right out of school, Dooley was promoted to manage the nurses on her shift. In less than two years, Community assigned her to open and run a Med-Check clinic. She excelled there before moving to Community North, where she worked in the emergency room and was later coordinator for its fertility clinic.
Curious about the business side of health care and still pulled toward accounting, Dooley went back to school and got an MBA at Anderson University in 2001 and a master's of science in nursing in 2006. "I wasn't the smartest person in my MBA class, but I was the hardest-working," Dooley said.
That doesn't surprise her co-workers, who've seen her juggle multiple roles while always keeping patients first. Her latest feat is helping plan the new Community Hospital East hospital, which opens this November.
Dooley was involved in convincing the Community Health Network board to build the hospital and has played a key role in its planning.
"Paige sees it as a personal mission to make sure this new facility is built in such a way that the population on the east side is served at the highest level they can be," said Robin Ledyard, a senior vice president at Community Health.
Dooley was especially pleased when someone participating in a focus group as part of the hospital planning process said they'd heard the new hospital was being built by patients and staff. That was like a shot of adrenaline for someone who's constantly gathering feedback from staff and patients about what Community East can do better. 
From surprising her nurses with ice cream to giving them an ongoing voice in day-to-day operations, Dooley puts a priority on keeping Community East's nurses motivated. "I have to take care of my team and myself," she said. "If we do that, we can take care of everybody else."
That "everybody else," of course, refers mostly to patients, whom Dooley still loves to interact with. That's why she'll pop into any room if she's walking by and sees the light indicating a patient needs assistance. "I love it when I can get out and see patients," she said. 
Charlie Goodman, a patient who says he's spent more time than he'd like in the hospital, said he owes his life to nurses like Dooley. "Her infectious smile and warm personality spreads like a wildfire throughout the hospital," he said, giving him hope that tomorrow will be a better day.•
Please enable JavaScript to view this content.