Non-physician
Greg Denniston
Aspire Indiana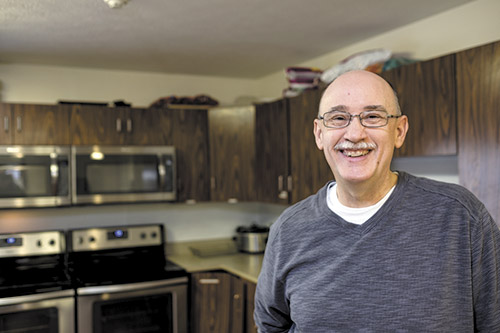 Greg Denniston is effective because he's walked in his patients' shoes.
Greg Denniston has written the book on coping with mental illness—literally. And he's lived and returned from the nightmare his clients at Aspire Indiana are experiencing.
Denniston, 56, is a certified recovery specialist at Aspire, an integrated care organization that's a pioneer in treating mental health. It's a job he found the hard way, part of a long journey that started with a mental breakdown in 1985 while he was in seminary in Denver studying to be a professor of theology.
He dropped out, moved home to Anderson, and ended up in a group home. Eventually diagnosed with schizoaffective disorder, Denniston suffered through joblessness, homelessness and relapse, but he persisted and found the help he needed to regain his health and live a meaningful life.
"You never know how things are going to work out," Denniston said. "Somehow, I landed on my feet."
Denniston works at Aspire's Hudson House, a group home for people with severe or persistent mental illness.
"When clients have lost hope or doubt their own abilities, Greg shares his story," said Stefane Borders, Aspire's director of supported living services. "He helps them set goals, work toward them and re-establish themselves in the community."
Denniston has had to re-establish himself more than once.
He grew up in Anderson, played basketball for the former Madison Heights High School, and studied philosophy and religion at Anderson University. When psychosis, paranoia and depression caused him to leave Denver, it was the first time he'd experienced those feelings.
Though he came back and got treatment, Denniston didn't bounce back easily. He worked as a claims deputy for the Indiana Employment Security Division and tried to go to law school but quickly dropped out. And his marriage fell apart.
"I was in denial for about seven years," Denniston said.
By the early 1990s, he'd gotten serious about recovery, and the therapist he'd been working with in a hospital psychiatric ward said Denniston was ready to get on with his life.
He went back to Anderson University, where he got a master's degree in divinity in 1996 and set out to be become a hospital chaplain. Denniston found an opportunity at St. Elizabeth's, a psychiatric hospital in Washington, D.C., that dates back to the Civil War. He was there only 10 months before he decided it was time to come home, but he valued the opportunity to interact directly with patients as a chaplain.
It's an experience he recalls fondly—and it serves him well in his work with patients at Aspire—but he had more twists and turns before landing his current role.
After returning to Indiana from Washington, D.C., Denniston worked for the National Alliance on Mental Illness and at other mental health organizations in programming and administrative roles. He also wrote a book, "The Meaning of Faith and Mental Illness," which was published in 2006.
Six years later, he was struggling again. A combination of factors led to serious depression that landed Denniston on disability. But he's bounced back at Aspire, where he relishes the opportunity to share his journey.
"I couldn't do it without my life experience," he said. "I know exactly what's going on with those folks."
That's why his role in their recovery doesn't shut off when he leaves work or when they leave Hudson House.
"Greg is known for continuing to meet with former residents over a soda, or taking them to local ballgames," Borders said. "Helping others is a part of their recovery, and it's a part of his."•
Please enable JavaScript to view this content.