Non-physician
Joani Rothenberg
St. Vincent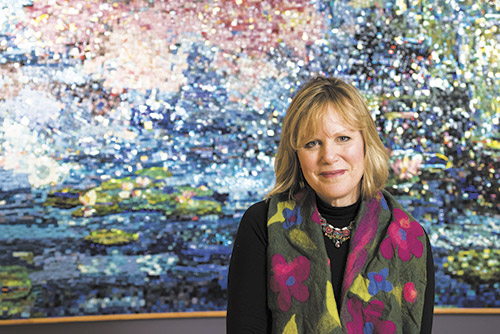 Joani Rothenberg with one of the glass mosaics St. Vincent patients have created.
Joani Rothenberg saw the future of art therapy in the United States 30 years ago when she was doing art therapy in Israel.
Decades later, after living and studying in Boston and using art to help troubled children in Indianapolis, Rothenberg uses the lessons she picked up along the way to make art therapy an integral part of the healing process at St. Vincent Hospital in Indianapolis.
Rothenberg, 53, a Michigan native who studied at Indiana University, is married to a doctor. When the couple settled in Indianapolis, they bought a little house in Broad Ripple from a doctor and his wife, who was also an art therapist. "When I saw art therapy books on the shelves, I knew I was in the right place," Rothenberg said.
The St. Vincent patients past and present who frequent the hospital's art therapy studio are glad Rothenberg is here.
"Art therapy has given me friendship, creativity and community," said one of the many patients who've enjoyed the transformative effect art can have on someone coping with a serious illness. Most of those under Rothenberg's care are being treated for cancer.
In 2017, they made more than 2,000 visits to St. Vincent's in-hospital studio, creating intricate jewelry, colorful paintings and special tiles that help them forget their illnesses and discover talents they didn't know they had.
"The healing power of art is to be seen as a person, not a patient. It brings back a new self they can identify with," said Rothenberg, who's been at St. Vincent five years.
Of course, most of the people Rothenberg works with aren't artists—or didn't know they were. Her first project at St. Vincent was a mosaic mural in a lobby for outpatient cancer patients. She'd invite a patient in the waiting room to place a tile on the mosaic, and nature would take its course.
"Sometimes it led from one tile to more tiles, and an hour of talking. People just want to talk," she said. "Cancer might be mentioned at first, but then the conversation evolves into family, jobs and other things."
Rothenberg's own work includes illustrations, Jewish ceremonial art, murals and landscape paintings. Among the places her work can be found locally is the lobby of the Jewish Community Center, for which she created a 50th anniversary mosaic, and at the Hasten Hebrew Academy.
At St. Vincent, there are 20 mosaics created by participants in Rothenberg's program. Some participants have gone on to enroll in art classes and exhibit and sell their work. They're also among the donors, along with St. Vincent Foundation, who support the art therapy program so it can be offered for free.
Although survivors are a big part of the program's success story, art is also a comfort for those facing death. "You can truly celebrate the person before they pass away," Rothenberg said.
She's hoping to spread the gift of art therapy to healers as well. She and her cousin, an artist in Israel, created a three-panel mosaic of cherry blossoms in Washington, D.C., for the American College of OB-GYNs. The panels have been a hit at national conferences, where professionals involved in women's health have, piece by piece, added colored tiles to the mosaics.
Rothenberg thinks providers will enjoy art therapy, too, and become believers in offering it to patients.•
Please enable JavaScript to view this content.