Top Honoree: Volunteer
Denise Whitfield
Pet-a-Pet at IU Health Methodist hospital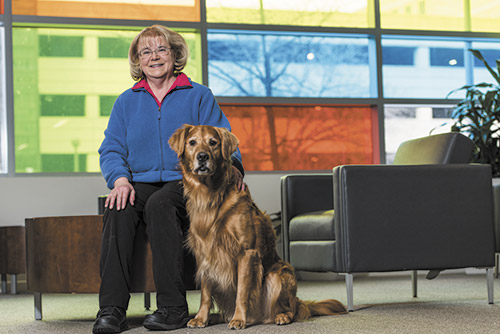 Denise Whitfield's 30-year-old Pet-a-Pet experiment is still going strong. 
Denise Whitfield was a nurse working in a pediatric recovery room at Methodist Hospital in 1986 when an overheard conversation led to a program that's been delighting patients ever since.
The Pet-a-Pet program at Methodist, staffed by dogs who brighten people's day, is a happy mash-up of Whitfield's care for patients and her even older interest in training and showing Shetland Sheepdogs.
It all started when a respiratory therapist working in Whitfield's unit heard her talking about one of her dogs and asked if she'd ever consider bringing the dog to the hospital to visit with a patient. Whitfield liked the idea and made arrangements with hospital staff to bring in both of her "Shelties."
"I was there two hours and was still peeling children and adults off the dogs when I left," said Whitfield, who started working with dogs when she was growing up in Moores-ville. "It was an incredibly enthusiastic reception. Kids who hadn't been out of their room in days were coming to the therapy room to meet the dogs."
After seeing the joy the dogs brought to patients and their families, Whitfield wondered what it would take to make the visits a regular occurrence.
Some very preliminary research told her it would take a lot. There was no model to follow and no Internet or cell phones to expedite gathering what she needed to know to make sure the visits didn't do more harm than good. Allergies, infections, injuries, parental consent and fear of animals were among factors that had to be considered.
With the cooperation of almost everyone she asked to help, Whitfield persevered and championed a program she's still involved with today. For her effort in creating Pet-a-Pet, she is the top honoree in the Health Care Heroes volunteer category.
Diana Korpal, a retired nurse who worked with Whitfield on the program early on, remembers all the ins and outs of getting it started and making sure it was valuable therapy for the children who were visited. "If a child was depressed or quiet, perhaps a more spirited dog was appropriate," Korpal said. "For children who were very anxious or active, one with a more calming demeaner would be used."
Beyond all the policies that had to be developed on the hospital side, there was also the task of finding appropriate dogs and persuading their owners to participate.
That wasn't easy, but Whitfield was in a good position to make it happen. She knew plenty of dog trainers and handlers, after all.
She has screened all the dogs that have ever been part of the program. "You cannot teach a dog to be a therapy dog," she said. "They have to have the right temperament, and then you have to teach them specific behaviors," she said. And then there are the behaviors that need to be unlearned, like licking. Whitfield recalls one dog with a great temperament that just couldn't stop licking. That dog didn't make the cut.
Dogs that have been accepted into the program aren't spooked by hospital noises, sights or smells, and they don't go crazy around other dogs or people. But they can't be too passive. They need to show confidence around people and an ability to interact.
When kids are especially curious about the dogs, that tells Whitfield the pet visit is helping them forget about their illness, at least for a bit. How do you cut their toenails? What kind of shampoo do you use on the dog? Do you brush his teeth? Those are the kinds of questions kids have when a dog comes to visit.
Whitfield said Methodist has four or five active volunteers now, but she's trying to recruit more who want to bring in their dogs. She thinks the dogs can help stressed-out staff as well. Over the years, the Pet-a-Pet model has been adopted at hospitals nationwide. Locally, Whitfield has consulted on introducing it at IU Health North and Rehabilitation Hospital of Indiana.
Whitfield, who got IU Health's Lifetime Achievement Award in 2013 for starting the program and helping to maintain it,estimated she's spent 1,400 hours of volunteer time over the life of the program.
When she's not at work or volunteering for Pet-a-Pet, Whitfield has her hands full with her own dogs. Her Golden Retriever, Driver, (she switched from Shelties to a taller breed years ago because of back trouble), was scheduled to compete at this year's Westminster Kennel Club dog show in New York City.•
Please enable JavaScript to view this content.