Volunteer
Emma Stumpf
Creator, Emma's Art Kits, a program of Cancer Support Community Central Indiana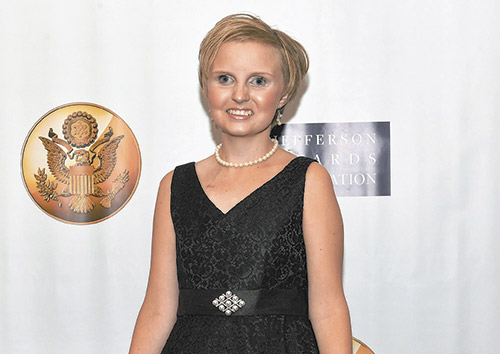 Emma Stumpf's art kits are finding their way to patients across the country. (Photo courtesy of Emma Stumpf
Emma Stumpf, diagnosed with brain cancer at age 7, knows how to keep hope alive. In the midst of seemingly endless chemotherapy and multiple surgeries, she found inspiration in the art therapy studio at Indiana University Health's Riley Hospital for Children.
Now 16 and still in the fight, Stumpf has given her inspiration life in the form of Emma's Art Kits, an idea she came up with one day when she was too sick to leave her room for art therapy.
"Art was something I kind of discovered in the hospital," said Stumpf, who started art therapy shortly after her initial diagnosis and gravitated toward painting. She paired moods with certain colors, using yellow paint when she was happy, for example, or blue when she was sad.
But what if you can't make it to the art studio? That was the problem Stumpf wanted to solve with the art kits. She imagined a small collection of art supplies that could be delivered to the bedside. It's an idea she conveyed verbally to her parents and Lisa Durst, her art teacher at the time at Clark-Pleasant Intermediate School in Greenwood. When they didn't quite get it, she drew them a picture.
A few years later, when Stumpf was in the hospital for yet another surgery, Durst remembered her idea and worked with Riley to get the project off the ground.
Three years later, almost 14,000 of the mobile art therapy kits have been distributed to patients at Riley, Peyton Manning Children's Hospital, other hospitals throughout the state, and 11 hospitals in other parts of the country.
The kits come in yellow plastic bags stuffed with a combination of coloring books, play dough, collage kits, painting kits, sketchpads and clay. The contents vary depending on the age of the recipient. Soon, they'll introduce Emma's Art Kits for adults, Stumpf said.
The goal is to get Emma's Art Kits into all 50 states, said Eric Richards, president and CEO of Cancer Support Community Central Indiana, a not-for-profit that has taken up the cause and is helping to pack and distribute the kits.
Stumpf got the ball rolling financially. She raised $3,000 at a charity softball tournament her sister played in. Cancer Support Community took over responsibility for fundraising after it became involved last year. The Indianapolis Colts and Subaru are among the notable donors to date. Girl Scout troops and softball leagues are also planning to raise money, Richards said.
The money raised pays for supplies and distribution, but Richards' goal is to get all the supplies donated.
"Emma is an incredible young lady, volunteer and advocate for those suffering from cancer," Richards said. "Her smile, spirit and drive are infectious."
National organizations have taken notice. In 2017, Stumpf won the Jefferson Awards Foundation's LEAD360 contest, a national competition that chose Emma's Art Kits from among thousands of youth-generated ideas nominated.
The New York-based foundation, which seeks to identify and replicate good ideas, has been instrumental in taking Emma's Art Kits to a national audience, said Lori Stumpf, Emma's mother.
Emma herself is just glad more kids like her are getting to experience the benefits of art therapy. Art is something she never wants to do without. Painting? Sketching? "I love it all," she says, "and I try to do it every day."•
Please enable JavaScript to view this content.