Volunteer
Bud Swineford
Alzheimer's Association Greater Indiana Chapter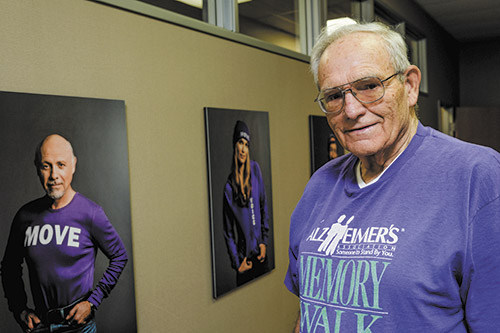 Bud Swineford finds neighbors receptive to his familiar fundraising pitch. 
Bud Swineford had never heard of Alzheimer's disease back in 1993 when he was invited to a lecture on the subject at Butler University. But because he has epilepsy, Swineford knew all too well that people's brains can fail them.
As he listened to the lecture and learned about Alzheimer's, he felt a kinship with its victims and their families. He thought epilepsy and Alzheimer's sounded similar enough that he was inspired to raise money for the inaugural version of what later would become the Walk to End Alzheimer's, sponsored by the Alzheimer's Association Greater Indiana Chapter. "I thought, 'Maybe we can kill two birds with one stone,'" Swineford said.
He set off on foot in his neighborhood to raise money for the walk and he's been walking ever since. Now 79, he's in his 25th year of door-to-door fundraising and has brought in almost $200,000 for Alzheimer's research and support.
Though he reaches out to small businesses near his house, most of the fundraising takes place in the 109-home, southeast-side neighborhood near Arlington and Terrace avenues where Bud lives with his wife of 59 years, Sarah.
"I know pretty much everybody," Swineford said of his neighbors, most of whom dutifully give to the cause every year when Bud shows up on their porch, clipboard in hand, wearing his Walk to End Alzheimer's T-shirt.
Swineford said that, last year, while he was raising $10,700, he heard more stories than ever before from neighbors who have a friend or relative coping with Alzheimer's. Although he had no personal connection to the disease the year he signed up to help, that soon changed. Swineford's mother-in-law was diagnosed the year after the first fundraiser and later died of the disease. Now his brother-in-law and three people in his neighborhood have it.
Perhaps the pervasiveness of Alzheimer's explains the reception he gets when he asks for money. "Most people just thank me for doing it," he said. But there have been exceptions.
On two occasions, a neighbor unsympathetic to the cause reported Swineford to the sheriff. "Everyone has a neighborhood grouch," he said. In both cases, Swineford knew the sheriff who responded and got an apology for the interruption.
Swineford, who says he'll raise money as long as he's able, does most of his fundraising in June, July and August, spending about an hour an evening visiting his neighbors. He and Sarah check the weather, map out his route, and agree on a pickup location, where she arrives in the car with water and snacks and he tallies whether he's reached his $100-per-evening goal.
It's a routine they've grown accustomed to in what has essentially become Swineford's retirement job. He's been raising money for Alzheimer's almost as long as the three decades he spent assembling truck beds for Chevrolet, a job he retired from the same year he became a fundraiser.
In the time he's been at it, Alzheimer's awareness has grown and so has the understanding of how big a problem it is. More than 5 million Americans live with Alzheimer's, including 110,000 Hoosiers. It's now the sixth-leading cause of death in the United States.
Those caring for someone with the disease or looking for a cure need more Bud Swinefords, said Leah Shattuck, communications director for the Alzheimer's Association's Indiana chapter.
"His simple, yet determined, grass-roots marketing technique allows him to advocate for further research funding, greater awareness of the disease, and family and caregiver education," Shattuck said.•
Please enable JavaScript to view this content.