Community Achievement in Health Care
Riley Hospital for Children at Indiana University Health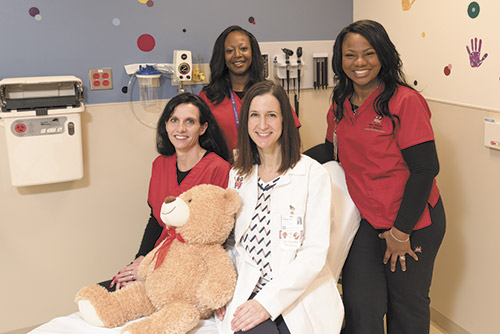 Dressed in red, Pediatric Center of Hope nurses, from left, Jessica Gibbs, Tanya Malone and Angela Bates with medical director Dr. Tara Harris.
The Pediatric Center of Hope at IU Health's Riley Hospital for Children starts picking up the pieces for sexually abused children the minute they walk into the exam room.
The child is given a colorful sticker to place on the exam room wall—next to the stickers of all the children who've come before them. It tells the victim and the victim's family that they are not alone.
"The stickers are more impactful than we'd expected," said Dr. Tara Harris, who became Center of Hope's medical director in 2012. The center dates back about 20 years, but it has made giant strides in the last decade.
Victims of abuse who arrived at the emergency room used to end up in the same exam rooms as all patients and were seen by the same doctors and nurses who treated others. Now, Center of Hope operates in a specially designed corridor adjacent to the ER. It offers patients and their families complete privacy, and children are seen by pediatricians and nurses who are specially trained to help child victims.
The center receives about 150 calls a month on an emergency hotline and sees about 500 children a year. Most are 16 or younger, Harris said, but older children with developmental disabilities are seen as well. Some walk into the ER with their families; others are referred by law enforcement or government child services offices. Some are uncovering abuse that happened years ago and schedule an appointment.
"Most kids are sexually abused by someone the family trusted," Harris said. "There are feelings of betrayal for the child and the parents. It's a lot for the families to take in. We help them by knowing what the child needs immediately and identifying what next steps need to be taken."
The staff, which is trained to collect forensic evidence if necessary, collaborates regularly with other medical professionals, law enforcement, local crime labs, the Marion County Prosecutor's Office and other victim advocates to compare notes and improve service.
The true heroes at the Center of Hope are the forensic nurses, Harris said. "They're experts at putting them at ease. I'm amazed at how easily they transition between a 3-year-old and a 15-year-old. They're the reason the Center of Hope has been able to thrive."
Angela Bates, one of those nurses, admires the children.
"It takes a lot for an abused child to tell someone that something bad has happened to them," she said. "If a child can be that brave, the very least I can do is give them my best."
Center of Hope's board-certified child abuse staff is working to spread its knowledge so more children can get expert care. The center's forensic nurses created a 40-hour course in how to properly conduct exams. The course, which was certified by the International Association of Forensic Nurses, was taught for the first time last November. The class—which drew 37 nurses, four social workers and two prosecutors—will be repeated this year.
"Training of this type specifically designed to help children who've been abused is hard to come by in Indiana," Harris said. "I'm so proud of our forensic nurses for taking this project on and sharing their knowledge. We want to empower other people around the state to serve as many kids as we can."•
Please enable JavaScript to view this content.