Honoree: Community Achievement in Health Care
Crooked Creek Food Pantry
Eskenazi Health Center Pecar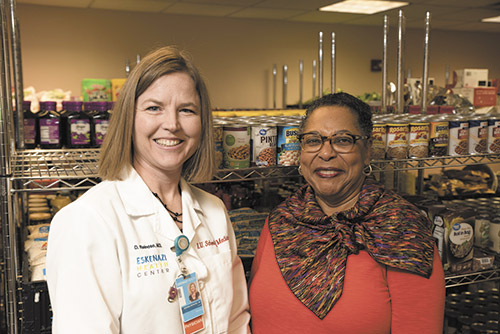 Crooked Creek Food Pantry Chief Operating Officer Maria Blake, right, with Dr. Deanna Reinoso, said physicians at the adjacent Eskenazi Health Center Pecar enjoy being able to refer their patients to the food pantry for healthy foods.
Organizers of the Crooked Creek Food Pantry estimated they would serve 200 families a month when the pantry opened in 2015. At last count, 1,200 families a month shop there, filling their carts with mostly healthy food options, at no cost. But at Crooked Creek, the food isn't the only draw.
"Building relationships is as important as giving them food," said Maria Blake, chief operating officer of the pantry and a member of the congregation at St. Luke's United Methodist Church. St. Luke's partnered with Dow AgroSciences, Gleaners Food Bank and Eskenazi Health to start the pantry, with a mission to provide food and nutrition in its underserved northwest-side neighborhood.
The pantry's location adjacent to Eskenazi Health Center Pecar on Michigan Road just south of West 71st Street is unusual among food pantries, offering opportunities for collaboration many pantries don't enjoy. Doctors at the clinic hand patients a nutrition prescription and refer them next door to get it filled. And the clinic nutritionist gives classes and demonstrations to pantry clients, many of whom have medical conditions that can be alleviated through better nutrition.
"We love the doctors," Blake said. "They've been so incredibly supportive."
Pantry clients who see a doctor at the clinic can arrange their grocery shopping and medical appointments at the same time, cutting down on the challenges of finding transportation.
Transportation isn't nearly as big of a problem as it used to be, Blake said. Before Crooked Creek opened, the nearest food pantry was at Second Presbyterian Church, at 7700 N. Meridian St. Some of Crooked Creek's clients said it took them four hours, round trip, to get there by bus.
Blake said the pantry will serve anyone once, but its mission is to serve those who live in Pike Township or western Washington Township, or anyone who is a patient at the clinic.
To make it all work, more than 300 volunteers provide in excess of 1,000 hours of service every month in various roles, from transporting food to stocking shelves to working directly with customers. Much of the food comes from Gleaners Food Bank. It is supplemented by donations to food drives promoted by St. Luke's, other organizations and individuals. Meijer, Kroger and Market District have programs that give Crooked Creek a low-cost source of food, and a garden tended by employees at Dow AgroSciences supplies food every week during harvest season. And now there's also a garden on site; it's a source of food and education to pantry clients.
Barbara Graves, one of the pantry's volunteers, is proud of the help Crooked Creek is providing for northwest-side families. "We know from conversations and observations that the pantry is making a difference for these folks, particularly the children and the seniors," she said.
Blake, the pantry's only paid employee, tells the story of a woman with eight children who mysteriously avoided certain foods. Conversation revealed the woman didn't have a can opener. The next time she came in, someone handed her a can opener, which made the woman's day and opened up new food options. "Something seemingly insignificant was huge for that woman," Blake said. "That's why I do what I do."•
Please enable JavaScript to view this content.