Top Honoree: Advancements in Health Care
Dr. Robert Batler
Urology of Indiana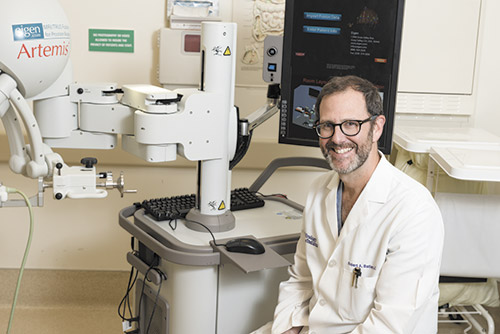 Bringing MRI-fusion biopsies to his clinic wasn't enough for Dr. Robert Batler; he figured out a way to mobilize it so more central Indiana patients could benefit.
Correctly diagnosing prostate cancer has traditionally been a game of chance. Standard ultrasounds don't give doctors a clear enough picture of the tissue in question, leading to random needle biopsies that can produce false-negative results as much as 40 percent of the time.
The consequences of a false negative can be dire. Though prostate cancer is routinely cured when detected early, late detection can be a death sentence. Prostate cancer is the second-most-common fatal cancer in American men.
Dr. Robert Batler, a urologist at Urology of Indiana, had seen too many patients whose biopsies came back clean but whose blood tests indicate trouble just six months later. Doing a random needle biopsy of the prostate, Batler said, is like inserting a needle into a walnut and hoping you hit something the size of a pea. 
Determined that he could better serve his patients, Batler learned of a more effective method for early detection and brought it to central Indiana. But rather than limiting it to his practice, he's broken down walls between health systems so more men can benefit from the technology.
Batler brought the MRI-fusion prostate biopsy program to central Indiana in October 2015, two years before the American Urological Association officially endorsed the procedure.
For leading the complicated effort to bring the program to not just his patients but others in central Indiana, Batler is the top Health Care Heroes honoree in the Advancements in Health Care category.
Batler first heard about the use of MRI-fusion in 2013 and began to gather information, finally training on the system in 2015. MRIs were already known to be helpful at finding cancerous lesions, but getting a needle to the exact location to sample the tissue remained a problem. The Artemis robotic platform Batler brought here integrates the static images of the MRI with real-time ultrasound, allowing the physician to guide the needle directly to the suspected lesion.
He describes it as a GPS system of sorts. "The tissue is the issue," said Batler, 47. "There's no blood test or imaging modality that says you have cancer."
Batler could have been satisfied with making the equipment available to his patients, but he came up with a way of transporting it to other clinics. He met with several MRI-fusion biopsy companies until he found one that could safely mobilize the equipment, which isn't designed to be moved. Then he built the infrastructure and imaging relationships necessary to mobilize the Artemis system, which is now used in six clinics spanning four major health systems. 
Urology of Indiana's nurse navigator, Ericka Bagi, regularly loads the equipment into a truck purchased specifically for transporting it. She sets up the equipment at each stop and coordinates the web of relationships among radiologists, referring physicians, pathologists and the urologists, assuring MRI images are available and downloaded to the platform.
"To my knowledge, Indianapolis is the first city in the country to have a mobile Artemis device," said Dr. A. Jason Mullinix, whose radiology practice collaborated with Batler to make MRI-fusion available to more patients. "Quarterly, Dr. Batler organizes a meeting of urologists, pathologists and radiologists from central Indiana to review cases … and strategize ways to improve outcomes for patients. He has dedicated a significant amount of his time to make this program a success," Mullinix said. 
Batler said that, at $250,000 apiece, the systems are too expensive for every medical clinic to have its own—especially since insurers continue to reimburse for the procedure as if it were a standard office biopsy.
"This isn't a revenue center," Batler said. "We have a better technology that is improving care and reducing unnecessary biopsies, but there's no reimbursement code for fusion biopsies. The economics around this aren't feasible." 
But Batler isn't complaining. He's satisfied that MRI-fusion is a benefit to the 1,200 central Indiana patients who've taken advantage of it so far. "If you just have it available at the academic institutions [where MRI-fusion got its start], that's not really making it available to the community."  
"It's a true collaboration between urologists and radiologists," he said. "We're way ahead of where we were five years ago."   
Eugene Bate is one of Batler's happy patients.
"You can tell that he's always trying to learn more for his patients," said Bate, who had the MRI-fusion biopsy after Batler thoroughly explained its benefits. "I'm very thankful that he's my doctor."•
Please enable JavaScript to view this content.