Advancements in Health Care
Franciscan Hospice House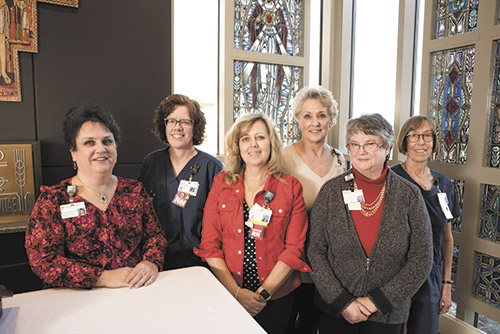 Franciscan Hospice House staff, from left, Brenda Schoenherr, administrative director; Edna Jones, RN/patient care coordinator; Trish Huffman, RN/hospice house manager; Cheryl McMahon, volunteer coordinator; Catherine Blanchard, hospice chaplain; and Teresa Brand, RN.
End-of-life care typically takes place either at home or in the hospital, but both places have drawbacks. As hard as a medical staff might try to deliver compassionate care, the institutional feel of a hospital is no comfort to patient or family. Most people prefer to die at home, but in-home hospice doesn't typically include round-the-clock care—and it's rare when family members are able to bridge the gaps.
The Sisters of St. Francis of Perpetual Adoration recognized this long ago. They dreamed of a third option on the south side, near St. Francis Health hospital. After more than a decade of planning and fundraising, their dream came true in 2015 with the opening of Franciscan Hospice House, where the terminally ill can die with dignity in a home-like setting.
Next to the sisters' convent, the Franciscan Hospice House consistently hosts 10 to 12 patients and their families, said Brenda Schoenherr, administrative director of home health and hospice services for Franciscan Visiting Nurse Service.
"It means the world to us to be able to serve our patients and families," Schoenherr said. The house is adding four rooms this spring, for a total of 16, to keep up with demand from families of all backgrounds and income levels.
The house has served more than 400 families, hosting terminally ill patients from age 20 to 100. "We live in a society where people don't think you're going to die that young," Schoenherr said, but Franciscan Hospice House is equipped to serve everyone.
Its private rooms, family-accessible kitchens and private outdoor porches are among the physical amenities offered. Staffed by an experienced palliative and hospice care staff, the house offers three levels of care: routine, respite for those who move in temporarily to give their family members a break, and intensive inpatient care. A chapel and chaplain are available at all hours, and pet visits are encouraged.
Staff go the extra mile to grant patients' wishes. One woman was able to realize her dying wish of seeing her son's high school graduation. Though she was just a few days from death, Hospice House staff made all the arrangements for her to get to the high school in a wheelchair van, continuously administering pain medications during the ceremony in a special viewing area designated just for her.
The care delivered by the hospice house doesn't end when a patient passes. Bereavement services are provided for 13 months after death. Immediate family members are contacted on a regular basis until they've gotten through all the "firsts" that happen after a loved one dies, such as holidays and birthdays, Schoenherr said. An annual memorial service has proven popular, recently attracting more than 300 family members of patients who died in the last year.
Dr. Marvin Christie, who began his medical career at Franciscan Health in 1953, was a major donor to Hospice House and one of its biggest proponents.
When he was practicing, Christie often struggled with the question of what to do for patients in their last months of life. Spending their remaining time in a clinical environment with limited visiting hours was "hard not only on the patients but on their families as well," Christie said in a Hospice House newsletter published not long after the facility opened.
He lauded the addition of the Hospice House as among the most significant advancements he'd seen at the hospital in his decades-long affiliation with Franciscan Health.•
Please enable JavaScript to view this content.