Physician
Dr. Elisabeth von der Lohe
Indiana University Health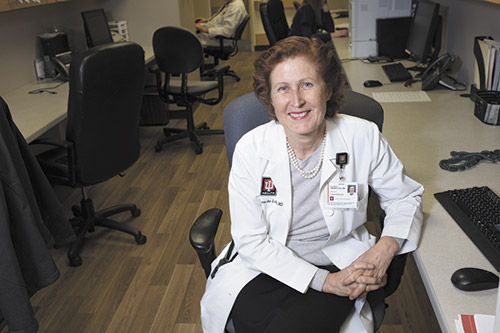 Dr. Elisabeth van der Lohe learned English and found a new interest in women's heart health after moving to the United States.
Elisabeth von der Lohe, who grew up in Germany near its western border with Belgium and the Netherlands, knew at the age of 5 or 6 that she wanted to be a doctor. But she couldn't have known that she and her patients would be communicating in another language.
Von der Lohe, 65, initially trained in psychiatry and psychology but eventually became a respected cardiologist in Germany. Her career entered an entirely different phase in 1994, when, at the age of 42, she followed her husband, also a cardiologist, to Indianapolis. She had to learn a new language, and she adopted a new passion: women's health.
Von der Lohe's arrival here happened at roughly the same time the medical community as a whole was waking up to the reality that women were underdiagnosed and often undertreated or incorrectly treated for heart disease. She began to see the topic pop up in the news and she read about it in medical journals. "This research spoke to me because I was a woman, and I was also in the field."
She started a women's heart clinic at IU Health's Methodist Hospital in 1998, an effort that at first received only tepid support from colleagues and administrators. Von der Lohe wasn't discouraged. Instead, she became a champion for the clinic and for women's health, writing brochures and giving lectures in the community. Her efforts gained traction as recognition grew nationally that diagnosing and treating heart disease in women and men weren't one and the same.
Women, for example, often don't have the crushing chest pain men experience when having a heart attack. Women's symptoms are often subtler. They are more likely to report extreme fatigue or what seems like indigestion. Elderly women, especially, sometimes pass out. Treatment is different, too. Women are more susceptible to stroke or cerebral bleeding when blockages are treated with clot-busting drugs.
"Fortunately, the world has changed," von der Lohe said.
Her colleagues recognize her role in championing that change.
Dr. Eric Williams, a professor of cardiology at the Indiana University School of Medicine, called von der Lohe an innovative leader for, among other things, developing the Women's Heart Program at IU and for her role in developing IU's National Center of Excellence in Women's Health.
As a leader of IU's Interventional Cardiology Fellowship Program, Williams said, von der Lohe is helping to train the next generation of cardiologists.
Few, if any, of her students are likely to have to start at the bottom in mid-career, something von der Lohe knows a thing or two about.
After her husband moved to Indianapolis, she worked 60-hour weeks in Germany while learning English so she could pass her exams and be licensed to practice in the United States. "I spent a lot of time reading English books and newspapers," she recalled. "I'd look up every word I didn't know."
Immediately after she arrived here, she worked at the Richard L. Roudebush VA Medical Center, where she didn't just help patients but sought their help as well. "I asked them to correct my English," she said.
More than 20 years later, von der Lohe relishes the time she spends with patients, about 70 percent of whom are women.
"Dr. von der Lohe's impact on women's health has been immense," said Dr. Richard Kovacs, a cardiologist at IU Health. "She has made a lasting impression on the state and the cardiology community."•
Please enable JavaScript to view this content.