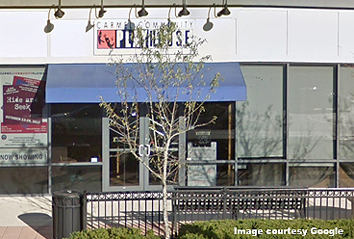 A community theater group that has been putting on plays at a venue in Carmel's Clay Terrace shopping center for more than eight years is looking for a new home.
Carmel Community Players, which is the middle of its 24th season, will have to vacate its 4,000-square-foot space at 14299 Clay Terrace Blvd., between Party City and Jimmy John's, early next month.
CCP President Tim Paramore said Clay Terrace's landlords, Washington Prime Group and previously Simon Property Group, had been allowing the Carmel Community Playhouse to lease the space over the years "at a fraction of market value," but was no longer willing to do so.
"Last week, Clay Terrace informed us they are no longer able to continue that arrangement," Paramore said a written statement. "While the timing of this announcement was sudden, it was not totally unexpected. We knew that one day the competitive demand for space in Clay Terrace would force us to move our playhouse. That day is now."
Paramore said Clay Terrace "has been a friend to CCP."
Jennifer Jones, general manager for Washington Prime's five area shopping centers, told IBJ that House of Martial Arts, an existing tenant in Clay Terrace, will be moving into the CCP space.
A yet-to-be-announced tenant is set to take over the House of Martial Arts space, which is next to Whole Foods Market at 14598 Clay Terrace Blvd.
CCP plans to close out its run at Clay Terrace with six performances of "American Buffalo" this weekend and next, with the last performance on March 4.
The theater group has three more plays remaining on its 2017-18 schedule: "Ragtime The Musical" (April 13-29); "Is He Dead" (June 8-24); and "Kitchen Witches" (Aug. 3-19).
"Ragtime" has already been moved to a theater at Ivy Tech's Noblesville campus.
"Over our history, Carmel Community Players have staged performances at many different venues in the Carmel area," Paramore said. "We will go back to that approach while we search for a permanent home."
Paramore said CCP has "identified available locations for the remainder of this season's shows but has not finalized contracts for renting the theaters.  We will announce them in the coming days."
The Clay Terrace venue, which has a capacity of 120 patrons for performances and other events, has served as more than a site for CCP's plays.
CCP has rented the facility to other arts organizations, businesses and community groups for meetings and events. It also hosts workshops, auditions and rehearsals in the building.
CCP has presented more than 60 plays and musicals since its first production in 1993, "Once Upon a Mattress." The group says it has sold more than 100,000 tickets to its performances. And at least 1,500 individuals have either performed in or assisted with its productions.
Please enable JavaScript to view this content.