The 90-year-old Madame Walker Theatre Center is showing its age.

The downtown landmark at the corner of Indiana Avenue and Martin Luther King Jr. Street lacks such modern amenities as air-conditioning and, in January, suffered severe damage when water pipes burst, flooding parts of the historic structure.

"It's been a huge challenge, with the cold temperatures," said Joyce Rogers, chairwoman of the theater's board, on a particularly crisp February day. "You had water up to your ankles, and we had staff here until 2 to 3 in the morning taking water out in buckets."

A restoration company rescued the building from further destruction, but the nagging aches and pains remain.
Fortunately, the Lilly Endowment Inc. is riding to the rescue. The Indianapolis-based private foundation in January announced it is awarding the center a $15.3 million grant, which will fund a complete renovation and ensure its viability well into the future. The project includes exterior improvements, a new mechanical system, and upgrades to the theater's sound system.

Directors of the Madame Walker Urban Life Center Inc., the not-for-profit that owns and oversees the property, hope to have architectural drawings completed by August, with construction wrapped up in July 2019.

At the same time the endowment announced its support, Indiana University announced it was stepping forward to partner with the facility to provide transitional operational support and develop new programming "to ensure the Walker's sustainability and economic viability."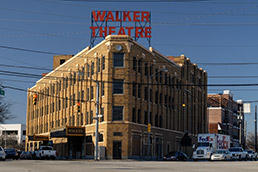 The four-story, 48,000-square-foot building once served as the headquarters for the Madame C.J. Walker Manufacturing Co. (IBJ photo/Eric Learned)
The three-way partnership substantially brightens the future of the venue, which has offered minimal programming in recent years.

Lilly Endowment has supported the theater for 40 years and recognizes its significance to the city, said Judith Cebula, the endowment's communications director.

"The theater is one of the city's truly authentic places," she said. "It anchors a neighborhood with a very rich history."

The four-story, 48,000-square-foot building houses the iconic theater, a ballroom and several offices. The unique triangular building was designed by local architectural firm Rubish & Hunter, whose contributions to the city include the Columbia Club and Hilbert Circle Theatre.

It previously served as the national headquarters for the Madame C.J. Walker Manufacturing Co., named for the trailblazing African-American entrepreneur who built a grooming-products empire in the early 1900s. It was added to the National Register of Historic Places in 1980.

Walker began development of the theater before her death in 1919, at the age of 51. Her daughter, A'Lelia Walker, finished the project in December 1927—the year the first talking feature film, "The Jazz Singer," debuted.

The theater showed movies and hosted vaudeville acts, in addition to such jazz greats as Duke Ellington and Count Basie, helping to shape Indiana Avenue into a hotbed for African-American culture.

But as segregation laws began to change in the late 1950s, the African-American middle class began leaving the once-bustling avenue for better opportunities in the northwestern part of the city. The theater closed in 1965 and was restored and reopened to the public in 1988. It hasn't been updated since.

"The building is really porous," said Vop Osili, president of the Indianapolis City-County Council and a theater director. "You heat the building, and the people outside are warm."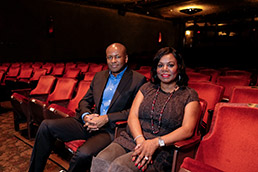 City-County Council President Vop Osili is a member of the theater's board; Joyce Rogers is chairwoman. (IBJ photo/Eric Learned)
To remedy that, a new heating and cooling system is at the top of the priority list.

Another high priority is a new sound and audiovisual system. Also on the wish list, if funds allow, is new carpeting, flooring and seating.

"We want it to be like it was in 1927," Rogers, the theater board's chairwoman, said of efforts to rekindle the theater's magic.

Despite the wear and tear, the theater still gives off an aura that harkens back to its heyday, when Nat King Cole might have graced the stage.

The motif is Egyptian and West African, evident by the sphinx heads adorning each side of the stage and the two carved chimpanzees that sit high above it. Small elephant heads line the ceiling of the theater separating the ground floor from the balcony. Battle shields serve as light covers.

Thomas Ridley, a spry, 95-year-old World War II veteran who frequented the theater as a teenager, serves as a tour guide and resident historian.

"This is it for the African-American community, and should be for the entire city," he said. "It means a lot to keep the building here."

The theater seats 935, more than three times the capacity in IUPUI's largest theater.

IUPUI Chancellor Nasser Paydar said he hopes the theater will once again draw national acts.

"With a renovated building, we should be able to attract folks from across the country," he said.

IUPUI's sprawling downtown campus sits near the theater, making IU a logical partner.

The fees IU captures from weddings and other events at the refurbished center will be for upkeep. Any money left at the end of a year will be handed to theater directors, Paydar said.

IU said it plans to implement a "programmatic thrust" that includes a new slate of class offerings, workshops, seminars and a speaker series in partnership with IUPUI.

"I think it's a game-changer," Paydar said of the endowment's contribution. "This will be the beginning to getting Indiana Avenue back to the way it was."

As part of the renovations, the theater will be rebranded as the Madam Walker Legacy Center. Madam will be spelled in the theater's name without the traditional "e" because that's how it appears in historical documents, Cebula said.

"The building reminds the people of Indianapolis of the compelling story of Madame Walker herself," she said. "Sometimes people in Indianapolis forget how significant she was."

Anita Harden, retired president of Community Hospital East, was named interim executive director for the center in March 2016. Directors want to hire a full-time leader once they finalize their vision.

Until then, Rogers and other directors hope to nurse the center back to health. Rogers, who recently visited the Muhammed Ali Center in Louisville, wishes it could rival that attraction in attendance. It draws more than 80,000 visitors a year.

"We need to take care of this site," she said, "so people can come from across the world and see what Madame C.J. Walker accomplished."•