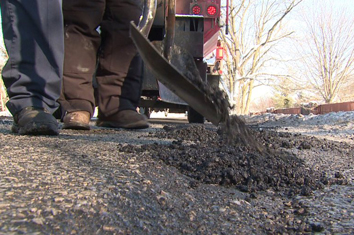 The Indianapolis City-County Council's Public Works Committee on Thursday night unanimously approved a proposal to spend $14.5 million in emergency funds to fix many of the city's pothole-littered roads.
The proposal, which will be voted on by the full council March 12, involves spending $13 million in county option income tax revenue that was returned to Indianapolis in 2016 from the state. It also calls for spending about $1.5 million from the Department of Public Works budget that was left over from projects that came in under budget.
Mayor Joe Hogsett called for using the emergency funds last week as complaints about the condition of city streets grew. This winter has created a larger-than-usual number of potholes because of frequent freeze-and-thaw cycles.
DPW director Dan Parker said the emergency funding would allow the department to both repair bad roads and potholes and fulfill the resurfacing projects that the city had already planned to do this year.
"The one thing [Mayor Joe] Hogsett did not want to do is cancel any programs that were programmed, promised and designed," Parker said. "Not one project will be touched. They'll all be delivered on."
The $13 million comes from $52 million in local option income tax revenue that the state returned to the city in 2016 specifically to address local road funding after the funds had been sitting in reserves. The other $39 million from those funds has already been included in the city's transportation budget to spend on other road projects over the next few years.
Under the proposal, about $9.5 million of the new funds would go to resurfacing streets in a way that should last several years, the city said. Around $2.9 million will be spent on personnel costs for the DPW, such as overtime and additional labor. About $525,000 will be spent on private contractors who are out repairing roads, and nearly $132,000 will be spent on supplies like asphalt.
The proposal is being sponsored by Council President Vop Osili and Zach Adamson, both Democrats.
Adamson said council members were "painfully aware" of the poor condition of the streets but said the city didn't have enough revenue to fix all of the city's needs.
Janice McHenry, a Republican council member, said a major issue is that there are 150,000 commuters "adding wear and tear on our streets," but "those people do not pay" to have them fixed, referring to drivers who live outside the county.
Troy Simmons, a member of the Local 120 labor union who works on the roads and spoke in support of the proposal. He said he was filling potholes earlier this week when, as he worked, some of the drivers got out of their cars and applauded.
He said he was thankful to "bring some smiles to the residents' faces."
Please enable JavaScript to view this content.