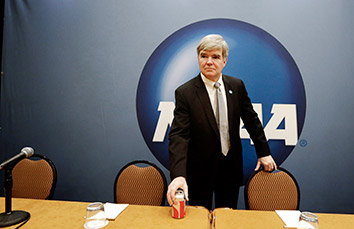 NCAA President Mark Emmert said he's hopeful the scandal roiling college basketball will lead to major rule changes, but the subject of schools paying players is likely a nonstarter.
In a 45-minute phone interview Friday with The Associated Press, Emmert said he expects a commission to reform college basketball to put forth proposals to modernize NCAA rules on player-agent relationships, devise new ways to handle high-profile enforcement cases and address the NBA's one-and-done rule. The commission, led by former Secretary of State Condoleezza Rice, is on track to give its recommendations to NCAA leadership when the Division I Board of Directors meets April 24-25.
Emmert said he does not think the Indianapolis-based NCAA is in crisis and that the "vast majority of what's going on inside" the association is working "incredibly well."
"Yes, we've got these very serious issues which require serious change and they erode people's belief in the integrity of all college sports," Emmert said. "That's a very serious problem and that's got to be addressed, and we're doing that right now and I'm really optimistic that before basketball season next year we're going to have really meaningful change that makes this circumstance, if not completely go away, dramatically better than the problems that exist today.
"That's not the same as saying that collegiate sports is in crisis."
A federal investigation has alleged hundreds of thousands of dollars in bribes and kickbacks being funneled to influence recruits, an FBI probe that many fans believe reveals just a tiny slice of potential corruption in college sports.
In September, the Justice Department arrested 10 people, including four assistant coaches from the University of Arizona, University of Southern California, Auburn University and Oklahoma State University. Payments of up to $150,000, supplied by Adidas, were promised to at least three top high school recruits to attend two schools sponsored by the shoe company, according to federal prosecutors.
Emmert said NCAA enforcement cannot investigate anything directly related to the case without the approval of prosecutors.
"It can be frustrating, of course, but that is the way we go about that," Emmert said.
He added the NCAA is working with schools to provide clarity on possible violations related to news reports about the case.
Last week, by Yahoo Sports said it obtained documents showing dozens of prominent players, coaches and schools could be involved in breaking NCAA rules. Current Michigan State University star Miles Bridges was cleared by the NCAA after a line item said an agent had given benefits to his mother.
The relationship between agents and players is one of four major components of the Rice commission's work.
College hockey and baseball players can have business relationships with agents in high school without risking eligibility because professional leagues draft those players out of high school. Emmert said those rules might be used to guide college basketball reform.
"How can a family and a player get the kind of advice, professional advice from reputable, responsible advisers and agents that they can use to make intelligent decisions for themselves and their families?" Emmert said. "Those are the questions that the commission is looking into as well. I and many others have long recognized that this relationship just isn't functional right now. We've got to make it more appropriate to today's environment."
More access to agents does not mean creating an open market for college athletes.
"I haven't heard any universities say that they want to change amateurism to move into a model where student athletes are paid by universities, and universities are negotiating with agents for their relationships with a school," Emmert said. "I would be surprised if the commission came forward with that kind of recommendation."
Emmert said allowing athletes to earn money for things such as endorsements from outside sources is worthy of consideration.
"There's a lot of discussion about the Olympic model, and think it's well deserving of serious consideration inside the context of college sports," he said.
Emmert said that the NCAA cannot change the NBA's so-called one-and-done rule, which prohibits U.S. players from being drafted until they are 19 and at least one year removed from high school.
"That relationship is the NBA and players' association to change," he said. "But the commission is looking at what can and should be done to change that relationship. You do have significant issues around young men who want to become professional athletes. They may or may not want to go to college in order to do that and they need to have more and better options. The question the commission's looking how can we, the NCAA, with the control over our part of that equation have some impact on that."
The commission is also exploring whether the NCAA, USA Basketball or the NBA can become more involved in AAU basketball, the youth leagues unaffiliated to high schools that can play an influential role in recruiting but lie outside NCAA policing.
Emmert said the NCAA's enforcement model, which relies upon cooperation between the schools and NCAA staff, works in most cases but as stakes have risen, high-profile cases have become more contentious.
"We've asked the commission to bring forward a recommendation saying we need a different approach for these 5 or 10 percent of cases, at the most, that are very high-profile where people are now in a much more adversarial position than they are when they are dealing with other issues. And how can that be done because the current model of a cooperative investigation and engagement breaks down very quickly. We're trying very hard to get the commission to bring forth recommendations on that, too," Emmert said.
The NCAA Men's Basketball Tournament starts in less two weeks, one of the signature events in American sports and a cash cow that pours hundreds of millions of dollars into the NCAA. Selection Sunday will focus attention on brackets and the field of 68, but the scandal is not going away.
"I hope that it's possible that we can remember these are college kids playing a game that they love and that this is the moment of their lifetimes," Emmert said. "Let's give them their due."
Please enable JavaScript to view this content.