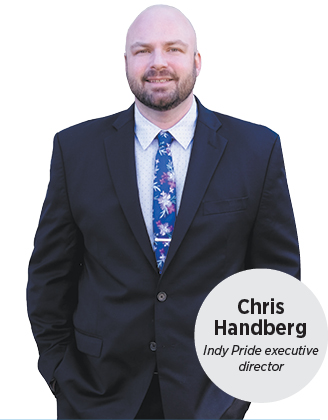 Chris Handberg, 38, is executive director at Indy Pride Inc., a not-for-profit best known for its annual Circle City IN Pride Fest celebration. Handberg previously worked at the Domestic Violence Network and The Julian Center and was a youth pastor in Anderson. IBJ sat down with Handberg to talk about Indy Pride and its mission.
Q. As Indy Pride's first paid employee, do you feel the weight of expectations?
A. I put a lot of pressure on myself because I see this as a huge step for the organization—to hire an executive director. The success of future executive directors sort of rests on whether or not I do a good job.
Who is Indy Pride's constituency?
A lot of our focus is on Indianapolis. But also, when we have our huge festival, people come from all over Indiana and all over the region. Our festival is more than just a big party with music and drinks and food. It is a time where people come from all over so they can celebrate who they are for just one day.
We have several volunteers that live in rural counties. They are here day and night the week of the event, preparing for it. I pulled them aside last year and said, "You're driving pretty far to come here. What brings you?" They said, "This is the only time we really feel like we can be ourselves."
Is there a common thread between the various jobs you've held?
I think that the common thread has always been working with and serving people. It's interesting because, in this job, I feel like all of my various experiences are showing up in different ways. I was just telling a friend last night that my pastoral work is just as relevant as my nonprofit work.
I came out when I was a youth minister. I was working at an Anderson church. I knew that I had to leave the church because people who are gay are not allowed to be ministers in the Church of the Brethren. So I wanted to still work in some sort of service field. Fortunately, The Julian Center was a good fit for me at the time. I stayed with them for around 10 years and still have a close partnership with them.
If you had had the freedom to stay, do you think you would still be in the ministry?
I don't know. I think that my views of faith, spirituality and all of the above have certainly been shaped by my experiences as a gay man. I feel like I have a unique perspective on faith and spirituality because of being pushed out of a place where I felt very welcomed in the past.
That perspective is probably helpful to you now.
Absolutely. I think the LGBTQ community has a very strange relationship with the church. We are just as spiritual, we are just as faithful as those that are heterosexual or cisgender. But many churches we are not welcome in because of their interpretations of the Bible. There are lots of other churches that do embrace us with open arms and a lot of my community finds their place there.
The Religious Freedom Restoration Act and its fallout in 2015 tarnished the state's image. Have we recovered, or do you still see some lasting impact?
I think RFRA showed our community who supports us in the most astonishing ways. We had executives from all the big companies here in Indy—Salesforce, Eli Lilly—come out and support our community. We had local leaders band together to create a campaign called "Open for Service" where we could know exactly where we're welcome. I look at RFRA as a real overall positive for our community because we came together and we had support from places where we had no idea we had support and we were able to see that.•
Please enable JavaScript to view this content.