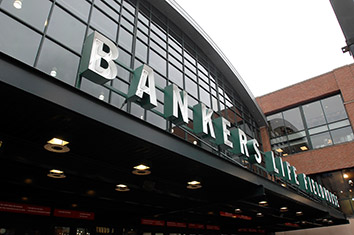 The 18,165-seat sports and entertainment venue known as Bankers Life Fieldhouse isn't going anywhere, but the moniker will disappear next year.
CNO Financial Group Inc., which is the parent company of the Bankers Life line of insurance products, has decided not to extend its naming rights deal for the downtown stadium after it expires on June 30, 2019.
Officials with CNO and Pacers Sports & Entertainment, which operates the facility, announced the decision on Tuesday morning. Although the facility is owned by the Indianapolis Capital Improvement Board, PS&E has the rights to sell the naming sponsorship.
The 20-year deal extends back to 1999. Carmel-based insurer Conseco Inc. inked the initial $40 million agreement for naming the fieldhouse, which opened in 1999. Conseco changed its name to CNO in 2010.
The venue remained as Conseco Fieldhouse until 2011, when CNO decided to rebrand the facility for its Chicago-based Bankers Life and Casualty Co. subsidiary.
Pacers Sports & Entertainment plans to pursue a future naming rights sponsor for the venue, according to the announcement. CNO left open the possibility of being involved in the stadium in another capacity.
"CNO has been an outstanding team partner since day one of our relationship, with a tremendous impact on both Pacers Sports & Entertainment and the community," said Rick Fuson, president and chief operating officer of PS&E. "We thank CNO Financial and Bankers Life for years of dedicated partnership and we look forward to the next phase of our relationship."
The fieldhouse is home to the Indiana Pacers, Indiana Fever and more than 600 events annually.
Please enable JavaScript to view this content.