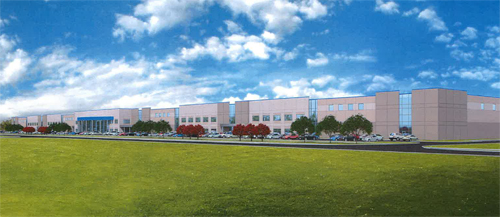 The largest private employer in Noblesville is planning to get even bigger with a $67 million expansion that will add 92 jobs over the next five years.
SMC Corp. of America is seeking tax incentives to build a 1 million-square-foot distribution center at its 174-acre North American headquarters campus north of 146th Street and west of Howe Road.
The Noblesville Common Council approved two preliminary resolutions 7-0 Tuesday night that pave the way for SMC to receive approval on its tax abatement requests. The incentive deals could receive final approval at the next council meeting March 27. 
The company, which develops and makes pneumatic automation equipment, said it expects to spend nearly $50 million to build the facility and another $18 million to add manufacturing, logistical and information technology equipment.
SMC said it would move distribution operations from its existing 1.5 million-square-foot headquarters into the new building and fill the vacated space with manufacturing, research and development operations.
The project is expected to be completed by 2020 with the new jobs added by 2022. The 92 new positions would pay an average wage of $26.54 per hour, or about $55,200 per year.
Officials say the expansion would also help SMC retain 954 employees who make an average wage of $22.68 per hour, or about $47,200 per year. The company has doubled employment at the site over the past decade.
SMC, which was founded in 1959 and moved from Indianapolis to Noblesville in 2009, is seeking tax abatements on the expansion that would save it an estimated $7 million in real property taxes and $1.43 million in personal property taxes over a 10-year period.
The project would generate an additional $7.1 million in real property taxes and $358,000 in personal property taxes for the city during the 10-year period.
SMC said the expansion is necessary to help it achieve its goal of doubling manufacturing and distribution capabilities. The company said it would consider relocating closer to a United Parcel Services hub if it did not expand in Noblesville.
The company has already made a capital investment of about $140 million in Noblesville since its arrival in 2009.
SMC Corp. of America is a subsidiary of Japan-based SMC Corp., which has operations or subsidiaries in 53 countries and production facilities in 29 countries. It sells products in 81 countries. The parent firm had revenue of about $4.6 billion in its latest fiscal year.
Among its products are actuators, control valves, vacuum parts, sensors, switches, air-preparation equipment and temperature controls. It clients are found in the automotive, semiconductor, food and packaging, life science, natural resource and machine tool industries, among others.
The company has fulfilled previous job commitments under incentive agreements with Noblesville in 2007, 2011, 2012 and 2013, and with the state in 2009 and 2012.
Please enable JavaScript to view this content.