To put it in football parlance, the quality of "Indianapolis Colts: The Exhibit," the Indiana Historical Society's newest display, is far more Peyton Manning than Ryan Leaf.

The exhibit, which opened on March 10 and runs through January 2020, is a celebratory view of the team's impact on Indianapolis and Indiana and its on-field successes.

"We had really been wanting to do something with the Colts for a while," said Marianne Sheline, the historical society's program specialist for education and exhibits. "Their arrival in the city in 1984 made a huge impact on the direction of everything for both the city and the state. To us, it was a monumental event that we wanted to cover."
The exhibit is set up in a horseshoe shape and located in a gallery that's smaller than a football field. Nothing gets in-depth coverage—not even the Irsays. Bob is mentioned briefly for agreeing to move the team here, and Jim has a picture in the Ring of Honor.

But everything that's important—including the fans, cheerleaders and even Blue the mascot—gets some attention. And this being a place for history, there's also some information about the beginnings of professional football and the decision to have teams draft players rather than bid for their services.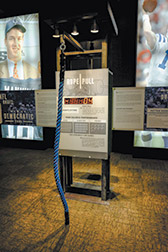 You could easily walk through this exhibit in 10 minutes. But don't. Give it an hour. There's a lot packed in here.

The displays start with a text-heavy section about city leaders' decision to turn Indianapolis into a sports capital, the construction of the Hoosier Dome, and the luring of the Colts franchise from Baltimore. (For those who don't want to read, the exhibit includes a five-minute slice of Ted Green's documentary "Naptown to Super City," which is well worth watching, and a time-lapse video of the construction of Lucas Oil Stadium.)

From there, what we see are joyous moments in team history in one form or another. You get the video highlights—from winning Super Bowl XLI to drafting Manning and Andrew Luck—and the audio calls of Bob Lamey's radio broadcasts of the team's greatest moments. There are floor-to-ceiling panels featuring player photos and game-worn jerseys hanging in plastic cases.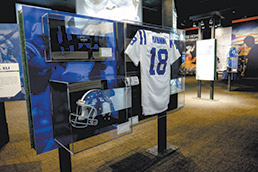 "Indianapolis Colts: The Exhibit" features displays of several pieces of Colts memorabilia, including a Manning jersey. It also offers activities, including a rope pull.
Visitors can participate in a surprising number of interactive and fun activities. You can measure your strength by pulling down on a weighted rope. Put bags on a scale to measure the amount of money some players make per game. Participate in a video game. Get your picture taken with a Colts player and Lucas Oil Stadium in the background. And vote for the greatest Colts moment and favorite Colts player. (To no one's surprise, Manning already leads by a wide margin.)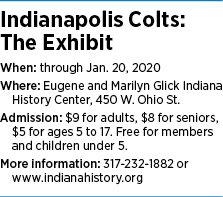 Of course, being home to a football team can have its drawbacks, too. The exhibit briefly acknowledges that some community members were initially concerned about spending on sports versus human and social needs, and the highlight video notes that the Colts have had some lean years. The historical society also deserves credit for being flexible enough to include a photo in memory of Edwin Jackson, the linebacker who was killed by a suspected drunk driver in early February.

But "Indianapolis Colts: The Exhibit," which is presented by the Colts, is overwhelmingly positive. As Sheline said, "We wanted it to be Colts culture and fun."•