Tow Yard Brewing LLC's equipment, recipes and restaurant and bar equipment will be auctioned on April 9, unless a buyer for the microbrewery's "complete package" steps forward sooner, Indianapolis-based Key Auctioneers said Monday.
Tow Yard, located in the former Chateau Thomas Winery building, had sought the protection of Chapter 11 bankruptcy reorganization in January and then closed its doors Friday. But it had posted a note on Facebook that said: "We have temporarily closed as we reinvent! Look for our new announcement coming soon!"
Tow Yard officials were not immediately available to comment.
Tow Yard had filed Jan. 17 to reorganize its assets after Judd Investments Two LLC, the landlord of the building at 502 S. Madison Ave. that Tow Yard occupies, sought to evict the brewery. The filing listed a $250,000 loan from BMO Harris Bank as debt and estimated assets of less than $50,000.
Michael Einterz, the Zionsville attorney representing Tow Yard's landlord, told IBJ in January that the microbrewery's lease was to expire at the end of February. Negotiations that began late last year to re-sign Tow Yard had "fallen on deaf ears," Einterz said, prompting Judd Investments to seek the eviction.
Judd's court petition for eviction had said a new tenant was set to take possession of the property on Feb. 28.
At the time, KC Cohen, the lawyer representing Tow Yard, said the brewery's owner, Shawn Cannon, wanted to continue to operate in the building, but there was a dispute over whether the business properly exercised a five-year option that would begin at the end of February. IBJ left a message with Cohen on Monday morning.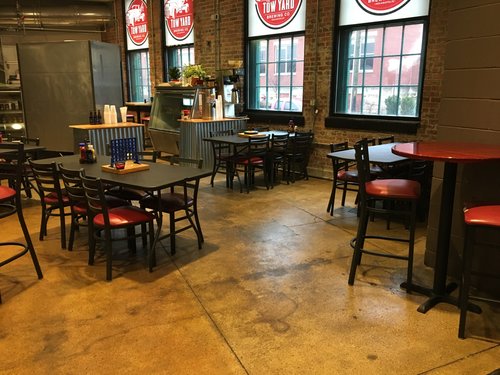 Key Auctioneers said offers on Tow Yard's brewery and restaurant assets, including its equipment, recipes, trademarks and copyrights, website and social media accounts, will be considered before the auction.
If a buyer is not found, the auction will include Tow Yard's brewing equipment, including a 20-barrel brewing system, which can produce up to 10,000 barrels per year.
The brewing equipment includes mills, augers, a water conditioning system, 40 barrel hot and cold liquor tanks, 100 kegs and a forklift. Restaurant equipment includes 3 walk-in coolers, a 16-tap beer dispenser system, dishwashers, fryers, pub tables, dining chairs, bar stools, and flat-screen TVs, along with outdoor seating, picnic tables, neon signs, and more.
The onsite auction is to begin at 10 a.m. on April 9, with online bidding available. A preview of the items will take place from 10 a.m. to 2 p.m. on April 6.
Please enable JavaScript to view this content.