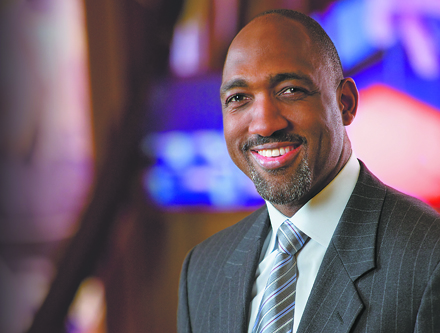 Derica Rice, who served as chief financial officer at Eli Lilly and Co. for 11 years before retiring in December, has been hired by CVS Health Corp. to run its pharmacy benefits business, according to the Wall Street Journal.
Rice, one of the most powerful black executives in America, will start his job as head of CVS Caremark on March 30, according to an internal company memo, the Journal reported Tuesday morning.
"With growing concerns over the affordability of prescriptions, the role of the pharmacy benefit manager has never been more important to the healthcare system," CVS said in the memo, announcing the appointment to managers, the Journal reported.
CVS had not issued a press release or commented on the news as of mid-morning Tuesday.
Rice, 53, had been widely considered to be a leading candidate to succeed Lilly CEO John Lechleiter, but that position went to fellow Lilly executive Dave Ricks when Lechleiter retired at the end of 2016.
Now it appears that Rice will get a new opportunity to lead a major enterprise. CVS Caremark is the prescription benefit management subsidiary of CVS Health, headquartered in Woonsocket, Rhode Island.
Pharmacy-benefits managers are middlemen that help select which drugs are covered for patients and that negotiate discounts with drugmakers.
Rice was Lilly's top connection to banks and Wall Street, and helped the Indianapolis-based drugmaker navigate its so-called Y-Z period, when it weathered a string of patent expirations and raced to bring new drugs to market to boost revenue.
In 2009, Rice was selected as one of the Most Powerful Executives in Corporate America by Black Enterprise magazine. He was also picked as one of Diversity MBA magazine's "Top 100 Under 50 Executives."
After receiving his MBA from Indiana University, Rice joined Eli Lilly in 1990 as an international treasury associate.
CVS Health is seeking federal regulatory approval for a $69 billion merger with insurance giant Aetna Inc., a combination that would put CVS Caremark on equal footing with the nation's largest pharmacy benefit managers, including UnitedHealth Group's OptumRX.
Please enable JavaScript to view this content.