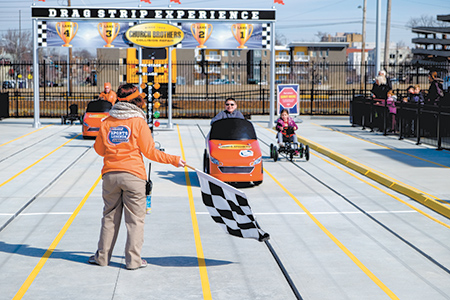 The Children's Museum of Indianapolis' new Sports Legends Experience is ready for action. The 7.5-acre interactive addition, which opened to the public on March 17, features stations representing most major sports, indoor galleries with exhibits, and a 60-foot, climb-through treehouse at its core.
Ready to play? Here are 10 things you should know: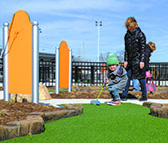 1. Miniature golf can be harder than you expect. The Pete and Alice Dye Golf Experience isn't some amusement park mini-golf course. Here, you can play a pair of nine-hole courses replicating links from the Shipwreck on the Straits in Wisconsin to Harbor Town in Hilton Head, South Carolina. You'll have to decide for yourself if the faux water hazards and sand traps (they are actually colored versions of the same turf as the fairways and greens) require a penalty drop or if your party just wants to putt out of them. Unless you are generous with mulligans, don't expect to hit par on your first few visits.
2. You'll have to wait for the statues. The dozen bronze sculptures for the Avenue of Champions created by artist Brian Cooley—representing the likes of Larry Bird, Wilma Rudolph, A.J. Foyt, and more—were not in place by opening day. In the meantime, there are the Olympic-inspired "Nike Winged Victory" and "Discobolus, Discus Thrower" sculptures by Nick Ring.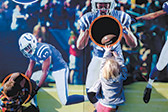 3. But, rest assured, Peyton Manning does make an appearance. For those concerned that the controversial exclusion of Manning from the Avenue of Champions lineup meant the star QB wouldn't be represented, a Manning jersey is on display in The World of Sports interior permanent exhibit. He's also one of the tackle dummies ready for action in the Indianapolis Colts Football Experience area.
4. It's not easy trying to be Reggie Miller. Nor is it easy keeping up with Tamika Catchings.
Visitors can attempt to re-create Miller's famed eight points in nine seconds with a timed interactive in The History of Hoops. Nearby, a video version of Catchings leads warm-up drills on a miniature court.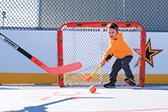 5. Finding a famous Hoosier hockey player requires a bit of a stretch.
Wayne Gretzky? Really?
6. No, football kickers don't have an easy gig.
Sure, they don't take as many hits. But you might have a little more respect for the position once you've given up on kicking a field goal through the higher uprights in the Indianapolis Colts Football Experience and downgraded your ego to try the smaller one.
7. It can be just as much fun to work in the pits as it is to race on the track. The Indianapolis Motor Speedway Pedal Car Racetrack Experience out near the faux pagoda is likely to attract some of the longest lines. (And, while leg-pumping speed matters, the fact that the cars are on tracks gives the one in the interior lane a distinct advantage). But there's also automotive fun to be had in The World of Sport where the Pit Stop Challenge offers a chance to test your teamwork skills.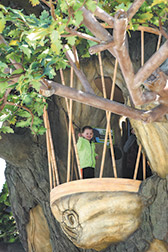 8. Leave the Tree House of Sports to the kids.
As an adult, you're just going to get in the way as kids explore the spiral staircase and hidden slides inside the structure.
9. Don't be a stickler for rules.
Expect crowds. Of small children. That doesn't just mean standing in long lines while someone's offspring figures out which end of a stick to hold in the Indy Fuel Hockey Experience. It also means having your perfect jump shot ruined by flagrant fouls on the 4-foot basketball court and/or kids running the wrong way on the Wiese Field baseball diamond.
10. Admission charge can vary wildly—but there's a sports-only option. With prices fluctuating depending on the day and crowd levels, an advance ticket to the museum—including the Sports Legends Experience—runs $15-$40. Visiting just the Sports Legends Experience from 5 p.m. to 8 p.m. costs $10-$20 if you order ahead.•
Please enable JavaScript to view this content.