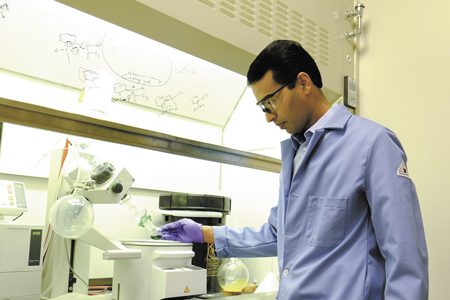 Dr. Philip Low, a chemistry professor at Purdue University, was excited in 2002 when one of his graduate students concocted a fluorescent dye that could light up cancer cells. As a test, his lab injected the dye into mice with tumors and found the only tissues that glowed inside the mice were the solid tumors.
Low set up a company, On Target Laboratories, to turn the discovery into a business. And he started talking to surgeons about how such a dye might help them locate and remove tumors they might otherwise miss.
Low
Now, more than a decade later, the West Lafayette company is embarking on a pair of late-stage clinical trials to test its lead compound, an infrared dye called OTL38, in patients with ovarian and lung cancer.
Last year, On Target raised $44 million in venture capital to fund the trials—one of the largest amounts awarded to an Indiana life sciences startup in recent years.
The money, on top of $32 million that On Target raised in an earlier round, will also help support the company's 12 full-time employees. Based at the Purdue Research Park in West Lafayette, the employees will oversee the trials, keep in touch with the FDA, and look for more funding.
"It's very exciting to reach this stage," Low said. "But the money didn't come out of the clear, blue sky. It required a lot of work. The results from early-stage trials were very strong."
The capital infusion shows that Indiana's life sciences sector is finally starting to pull down some serious venture funding. What was once a trickle has developed into something of a gusher. Last year, nearly three dozen Indiana companies, from Bloomington to Warsaw, raised a combined $111.3 million, up 25 percent from 2016 and setting a new record. That's more than four times the amount the sector raised just five years ago.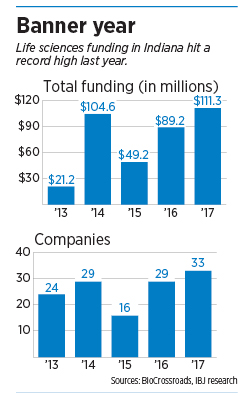 The startups are developing a wide range of products, from high-tech wound dressings and cancer drugs to surgical tools and ankle braces.
Nearly 70 percent of the venture capital last year went to just three companies: On Target Laboratories; Outpost Medicine, which is developing new treatments for urologic and gastrointestinal disorders ($20 million); and Wellfount, which is developing remote-dispensing technology ($11.9 million).
More than 30 other companies raised amounts from $15,000 to $5 million each. Many of those companies are early-stage startups and will likely use the money to create prototypes and do preclinical testing.
Life sciences supporters here are cheering the record amount of funding raised last year, but said they wish the number could be even higher, because many life sciences startups are still beating the bushes for money.
"We're making progress," said Brian Stemme, who tracks venture deals for BioCrossroads, an Indianapolis group that promotes and invests in the sector. "But we need it to be higher than $111 million because there are other opportunities that we'd like to see funded. But we're heading in the right direction."
Uphill climb
Indiana is home to such life sciences powerhouses as drugmaker Eli Lilly and Co. and device-maker Cook Medical. Yet many years, the Hoosier state is dwarfed by neighboring Midwestern states in the amount of venture capital it raises.
In 2016, the last year for which regional figures are available, Indiana lagged Minnesota, Illinois, Ohio, Missouri and Wisconsin in the amount of health care venture investment, according to BioEnterprise, a Cleveland-based life sciences development group.
Venture capital is financing that investors provide to startups they believe have long-term growth potential.
For young life sciences companies, venture capital is an important source of funding, since they often need tens of millions of dollars to run expensive clinical trials and don't have access to traditional capital markets.
In return for accepting the venture funding, companies transfer a portion of ownership to the investors. In turn, the investors take a risk that the startup products will perform well in tests, get regulatory approval and find a commercial market.
On one level, it's difficult to draw conclusions about how successful Indiana life sciences companies are in raising venture capital. Most companies, wary of losing ownership shares unnecessarily, don't raise capital until they need it. That often happens when they are about to build a prototype or start a clinical trial.
So, the money often comes in big chunks on irregular intervals, a process finance experts call "lumpy."
"It's always going to be lumpy," Stemme said. "Companies in early stages need less money. Companies in later stages need a lot of money. It's the typical product cycle for life science companies."
Two major factors, therefore, determine the level of dollars invested. The first is how far along the companies are in development. The second factor is the number of companies that have won funding.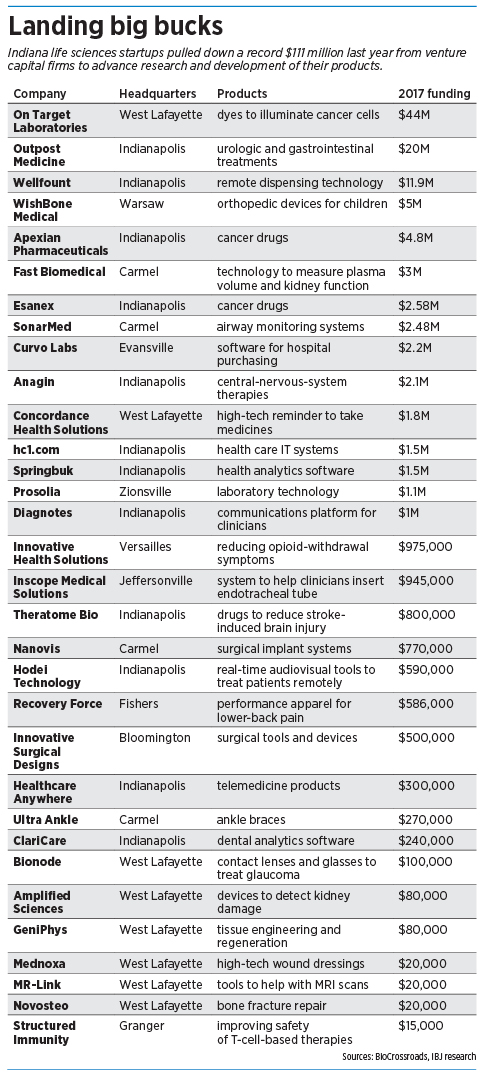 Last year, 33 Indiana life sciences companies won venture funding, up from 29 in 2016, and 16 in 2015. The average deal was worth $3.37 million, up from $883,000 in 2013, although those numbers can be easily skewed by one or two large deals.
Finding venture capital is often one of the most daunting jobs for startups, especially those with products that are considered risky, such as experimental drugs.
The overall success rate for new drugs is just 9.6 percent, from early clinical testing to FDA approval, according to BIO, a huge biotech trade association, based on data from 2006 to 2015. That means nine of every 10 drugs that go into clinical testing are scrapped along the way—sometimes after years of expensive testing.
Onto something
On Target Laboratories said the money it raised last year will help get its tumor-targeting fluorescent dye through Phase 3 trials and to FDA submission, two expensive steps.
How the company raised funds over the years illustrates how big the job can be. The company initially won a $218,000 grant from the National Institutes of Health.
Low, the Purdue chemist, said he began talking to surgeons to gauge their interest after his graduate student came up with the dye.
"It was interesting that the response was, 'Oh, we know how to find all the malignant lesions in a patient. This is nothing we really need,'" Low recalled.
But in doing additional research, Low discovered a substantial portion of cancer surgeries leave tumors behind, often causing the cancer to recur or spread. In the case of breast cancer, he said, it's about one-third. In ovarian cancer, it's nearly half.
He pointed out that cancer cells have an "enormous appetite" for the folic acid in the dye, enabling it to specifically target the cancer.
Believing he was onto something, Low began speaking frequently about the issue at medical conferences and scientific meetings. And after one of them, someone in the audience approached him about a surgeon in Holland who was trying to develop tumor-targeted fluorescent dyes for surgeries to highlight malignant nodules.
Low got in touch with the surgeon, who then used the Purdue dye. The surgeon injected the dye into a patient suffering from ovarian cancer. Then he proceeded with the operation, without using a fluorescent lamp, cutting out all the malignant lesions he could find. Afterward, the surgeon turned on the fluorescent lamp to double-check his work.
"And there were spots all over the place," Low said. "He removed them and sent them to pathology. It turned out that 100 percent of those fluorescent lesions were diseased."
Feeling vindicated, Low continued to tinker with the dye, eventually coming up with an infrared version that can be detected only with a sensitive camera. That dye, known as OTL38, is what the company's testing now.
Fast tracked
In 2014, On Target raised $15 million from two major funders: the Pension Fund of the Christian Church and Tom Hurvis, founder of Old World Industries. The company used the money to fund a Phase 2 ovarian cancer trial.
A year later, those investors and the Foundry Investment Fund of Indiana contributed an additional $1.7 million to continue to test OTL38 in lung cancer patients.
In the meantime, surgeons at the Mayo Clinic, Penn Medicine, Moffitt, the University of California at Irvine and Leiden University Medical Center participated in a phase 2 ovarian cancer trial.
"It's been exciting from the very beginning," said Martin Low, brother of Philip Low, who is the company's CEO. "We clearly believe we have the best technology."
Last fall, boosted by strong data in early-stage trials, the company landed another whopper of a capital infusion: $40 million in a funding round led by new investor JJDC Inc., the investment arm of Johnson & Johnson, the biotech and consumer-goods giant.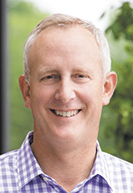 French
On Target said it would use the money to further develop its lead imaging compound, OTL38, for use in detecting multiple cancers, including ovarian and lung, and to develop a second imaging compound for additional cancers.
The FDA has given On Target fast-track designation for OTL38, a move likely to push the compound through the regulatory system quickly, unless it runs into unforeseen problems.
On Target said it hopes to submit the compound to the FDA for approval for use in ovarian cancer by 2020 and for lung cancer by 2021.
Earlier this month, On Target said it had secured additional financing as part of last fall's Series B round, raising the total financing round to $44 million. New investors include H.I.G. BioHealth Partners, an arm of Miami-based H.I.G. Capital; Indianapolis-based Elevate Ventures; and Helsinn, a privately owned pharmaceutical group based in Switzerland.
"It's not easy to raise this much money," said On Target's non-executive chairman, Fritz French, an Indianapolis life sciences veteran who has held executive positions at Guidant Corp., Eli Lilly and Co. and Marcadia Biotech. "But when you're successful in raising money, it tells you that others believe in your product, and the interest level is there."•
Please enable JavaScript to view this content.