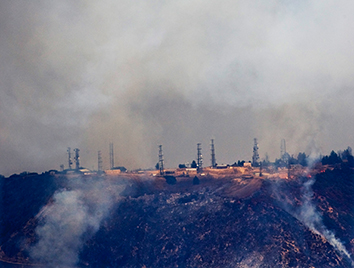 A major wildfire north of Los Angeles is perilously close to Mount Wilson, home to transmission towers used by Indianapolis-based
Emmis Communications Corp. and other broadcasters.
"Mount Wilson is at risk due to the wildfires, and we are
monitoring the situation closely," Emmis Chief Operating Officer Patrick Walsh said in an e-mail this morning.
Walsh said the company owns a backup transmitter at Los Angeles' Flint Peak and is prepared to switch over transmission
to that site if fire damages its Mount Wilson facility.
Emmis' KPWR-FM 105.9 transmits from Mount Wilson, as does
KXOS-FM 93.9, an Emmis-owned station programmed by Grupo Radio Centro.
The fire continued to rage today, leaving
53 homes up in smoke, thousands more threatened and new rounds of evacuations.
Flames plowed through half-century-old
thickets of tinder-dry brush, bush and trees just 15 miles north of downtown Los Angeles. Firefighters awaited daybreak to
learn the new extent of the 6-day-old fire, which is now expected to burn for weeks.
The size of fire in the Angeles
National Forest grew to more than 190 square miles overnight, U.S. Forest Service Cmdr. Mike Dietrich said.
It
was spreading in all directions early today, from Sunland on the western front of the fire to the high desert ranchlands of
Acton on the northeast.
"Pretty much everywhere, right now, is the hot spot," forest spokesman Shane
Rollman said.
Firefighters were keeping a close eye on the weather. Hurricane Jimena roared toward Baja California,
but was not forecast to have much of a factor in firefighting efforts because it is expected to dissipate by the time it hits
Southern California.
Meteorologist Curt Kaplan says there is a 20 percent chance of a thunderstorm in the fire
area today, but that could end up being a bad thing because the storm could spawn 40-mph wind gusts.
Please enable JavaScript to view this content.