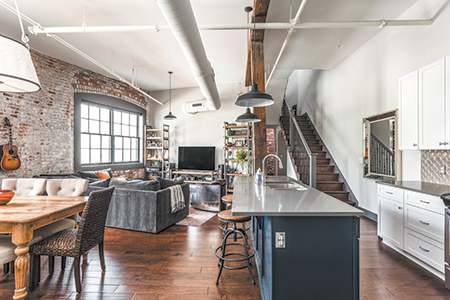 Nick Blum was looking for a new location for his appointment-only jewelry store, BlumLux, about three years ago when his broker showed him a three-story brick building at the eastern edge of the Mass Ave district that dated to the 1890s.
The building at 740 E. North St. was originally home to Sargent Paints, then later became a print shop, but it had been boarded up for 30 years and was full of 1970s office decor when Blum saw it.
"It was a mess," he said, "like a haunted house." Still, Blum was undaunted.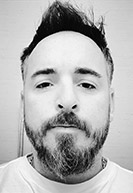 Blum
"By nature, I'm a creative," the Monticello native said. "I saw the vision for this."
And that vision included residential as well as commercial development.
He bought the building and spent about 18 months renovating the lower level into his showroom. He turned the upper floors into three flats and two penthouses—the latter with rooftop decks.
The spaces feature original brick walls and wooden beams, but most everything else is new. The floor plans are open with exposed ductwork.
"There's a lot of history when you walk into" the spaces, Blum said. "It's definitely industrial, mixed with a little modern."
Blum moved into one of the penthouses and rented the other spaces for a year. But now, to free himself up for more real estate development, he's taken the jewelry shop online only and is converting the showroom into a high-end condo he hopes to sell for at least $1.5 million.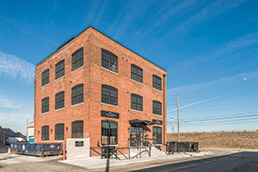 The Mass Ave area building's original tenant was Sargent Paints. It later held a printing shop and then Blum's jewelry shop.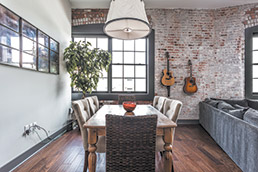 He's also put all the second- and third-floor spaces on the market. The prices range from $250,000 for a one-bedroom condo on the second floor to $800,000 for the penthouse where he's been living.
That penthouse features three bedrooms and two baths in 2,135 square feet. The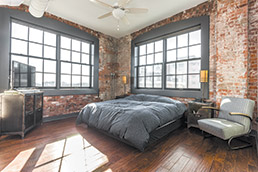 exposed bricks are "an amazing color," Blum said. "There's a lot of color saturation. They look old, which is really neat."
The kitchen combines white cabinets and a darker gray, solid-surface counter with a steel-blue island that has a lighter gray top. All the cabinets are shaker style with silver hardware, and the appliances are stainless steel.
The condo's pale gray walls and darker gray trim add to the industrial feel. But the exposed beams, dark wooden floors (which are new) and a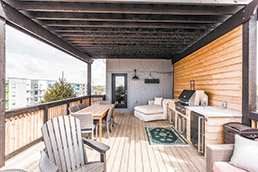 farm-style dining table with tufted, upholstered chairs add warmth.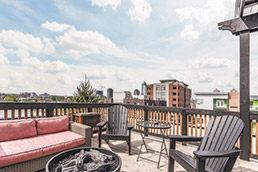 The building houses six condos, including this penthouse, where Blum lived before he decided to sell. Both of the building's penthoues have rooftop decks with views of downtown.
A cushy, gray velvet sectional combined with guitars on the wall, a large leather ottoman, metal and leather side chair, and Persian-style rug with accents of red and orange pull the styles together. Wood and metal bookcases offer space for a TV, speakers, books and more.
Large windows accented with dark trim and brick arches wash the rooms with light, including the bedrooms, which are decorated with various shades of grays with metal accents.
The bathrooms continue the gray color scheme, with stone tiles in the shower and on the floor. Dark wood vanities match the floors in the main rooms. The master bath features a rain shower head.
Stairs with metal accents and stained wooden treads lead to an upstairs den and a utility room—then out to a spacious rooftop deck with a built-in grill and mini-fridge, covered by a pergola. There's plenty of room for a dining table and seating area with views toward Massachusetts Avenue and downtown.
Rooftop trees soften the view—and the noise—of the interstate next door to the east.•
Please enable JavaScript to view this content.