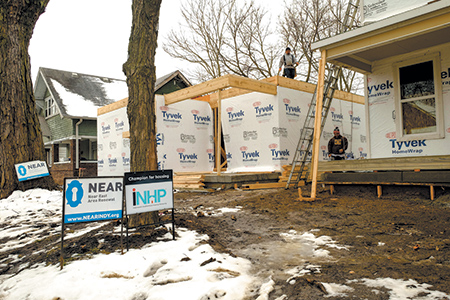 The Hogsett administration is racing against an end-of-year deadline to tear down blighted and abandoned homes with $3 million it has remaining from a federal grant awarded in 2014 to tackle the problem.
That year, state and local officials, including former Mayor Greg Ballard, stood excitedly on the near-east side's North Beville Avenue to complete the first demolition in a federal program financed by nearly $6.4 million from the Hardest Hit Fund.
The money was part of the state's $75 million allocation from the program.
But progress on the demolitions has been slow and about half of the city's take remains to be spent by the end of 2018, when federal officials will wind down the grant program.
In 2015, just 15 houses in Indianapolis came down, according to the city's land bank, Renew Indianapolis. The next year, 91 homes were tackled. The pace picked up in 2017, with 118 homes demolished.
And as of March 26, 70 homes have come down or are in progress in 2018. The city hopes to tackle an additional 80 by the end of the year.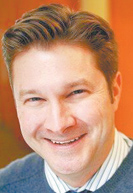 Bennett
"We're planning demolitions, trying to program as many out to spend every dollar we have available," said Deputy Mayor Jeff Bennett.
The rush to tear down blighted homes with the soon-to-disappear federal money comes as the Hogsett administration approaches the halfway point in the mayor's larger, two-year effort to restore, rebuild or demolish 2,000 abandoned homes, which he announced last April.
The federally funded demolitions are a part of that effort—but by no means all of it. Instead, the city has cobbled together local, state and federal money to rehab more homes than it will tear down.
The Hogsett administration and its partner organizations say they have tackled more than 850 properties so far through a variety of interventions—from demolition, to new construction, to rehabilitation, to helping homeowners with relatively inexpensive repairs—like fixes for siding, roofs, foundations and broken windows—to bring their buildings back up to code.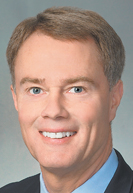 Hogsett
In doing so, the city has built or made habitable again more than 1,500 units. Some of the properties contain multifamily dwellings, which means rehabbing one building creates more livable units.
Less than a third of the interventions are demolitions. Bennett said city officials are more interested in rehabbing a property or helping a homeowner with repairs than simply tearing down homes.
"It's easy for us to fall into the trap of demolition as the only way out," he said. "It's way more cost-effective, environmentally friendly, and community-friendly to save a property.
"We're being almost surgical with demolition, while we're throwing lots of ideas, creativity and sources of creative funding to the rehabilitation question," Bennett said.
Witnessing progress
The work is taking place in neighborhoods all over the city, although the visual progress varies.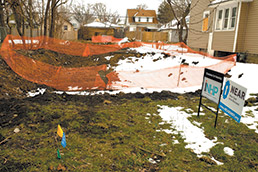 Educators' Village targets 22 properties at Rural and East 10th streets for development through a mixture of demolition, rehabilitation and new construction. This Rural Street lot has been cleared for a new build. (IBJ photo/Eric Learned)
A new home covered in bright, white Tyvek house wrap in the 3600 block of North Capitol Avenue has replaced an overgrown, boarded-up home with a chain-link fence.
On Tacoma Avenue, where a handful of properties were on the city's problem list, some abandoned homes have been cleared, leaving empty lots ready for redevelopment.
Then there's the hallmark development projects that have been touted by city officials. Those will eventually be counted toward the city's 2,000 Homes tally.
Hogsett was on hand early this month to announce the demolition—using the federal Hardest Hit Fund dollars—of a former brothel just east of the Kennedy King neighborhood, which Hogsett said was "more than removing eyesores and raising property values; it's about ridding neighborhoods of hotbeds for crime."
Steven Meyer, executive director of the King Park Development Corp., said the property would eventually be turned into low- and moderate-income housing.
And progress is continuing on the Educators' Village project by community development group Near East Area Renewal near East 10th and Rural streets. The project will redevelop 22 vacant or abandoned houses into affordably priced, income-restricted homes aimed at Indianapolis Public Schools teachers.
Construction on Educators' Village homes is expected to be finished in early June.
"Every possible effort is being made to bring affordable housing into reality in urban neighborhoods," said NEAR's executive director, John Franklin Hay. "I see the mayor's administration making heroic efforts to try to accomplish that."
Bennett called the project "transformative" and the "exact idea of comprehensive redevelopment."
Another sign of progress in tackling blight is increased activity at Renew Indianapolis, which is responsible for marketing and selling abandoned properties on behalf of the city. The group is the lead partner tasked with managing the city's Hardest Hit Fund demolition program.
Last year, the group sold 134 properties where a demolition had occurred, compared with 47 in 2016. So far in 2018, 53 sales have closed.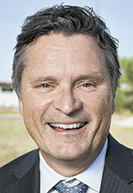 Baird
"We really pushed it," said Executive Director Bruce Baird, who said the uptick in activity is due to the hot real estate market, the looming state deadline, leadership changes at Renew Indianapolis, and the mayor's agenda.
"That makes a big difference, when the mayor makes it a priority and other folks fall in line," Baird said.
Bigger goals
Reaching the 2,000 benchmark is "a challenging number, a challenging goal," Baird said, but his group is working "as fast as we can to meet the mayor's deadline, the mayor's objective."
"When you address problem properties, it pays dividends to houses nearby and neighborhoods nearby," he said.
But even as progress marches on, Hogsett officials know the larger problem of abandoned housing won't be solved by the time the 2,000 Homes effort—or even the Hogsett administration—ends.
Bennett estimates the number of abandoned and vacant homes in the city at 3,900—nearly twice what Hogsett's initiative aims to tackle.
That's why the Hogsett administration is working to "set up a system that is standardized across departments and governmental operations" to speed up the work and better involve neighborhoods in the effort, he said.
"If it's a burnout, we get it through the demolition process. If it's a property that's in an emerging area that we need to get out of a bad owner's hands, we have a process to do that," Bennett said. "We are always going to be dealing with a subset of properties. We've just never had the strategy."
But funding is also a concern. When the Hardest Hit Fund runs out at the end of the year—the city says all projects need to be "in process" by end of 2018, though the city will have some lag time to get reimbursed— the effort will be more reliant on the city's already-strapped budget and other sources.
For example, Bennett said, the city used to use community development block grants to tear down houses. But with the availability of the Hardest Hit Fund, officials have been able to deploy those to better uses.
So far, the mayor has funded his 2,000 Homes project with a combination of funds, depending on the type of intervention.

The 23 parcels that got new construction and rehabilitation have been funded by federal HOME grants, community development block grants, tax-increment financing, and brownfield redevelopment funds.
Nearly 450 homes that received repairs were funded by the city's Department of Business and Neighborhood Services and block grant funds.
And the more than 250 demolitions have been funded by the Department of Business and Neighborhood Services and Hardest Hit Fund.
Officials said the city can continue to make progress—even if it's slower—once the federal funds dry up.
"We would like to have limitless funding," Bennett said. "But I think we are able to run a successful program based on the resources we've identified."
Good intentions
Residents of downtown neighborhoods are watching the effort with cautious optimism.
Sarah Dillinger, an attorney and real estate broker at Yarling & Robinson, has been involved in abandoned-housing issues as a resident of St. Clair Place neighborhood, just west of East 10th and Rural streets. She said she's "happy with the progress and focus" on blight.
"In my area, it's happening quickly," Dillinger said. "There's revitalization and new buildings in the downtown area, but there's a lot of nice communities right around downtown [that deserve attention]. I'm very positive about the work that's being done."
Meanwhile, David Hittle, a resident of Holy Cross neighborhood just east of downtown between Michigan and Washington streets, said the city must figure out how to deal with blight as an ongoing concern.
"There's a never-ending stream of very well-intentioned programs that never really seem to make a difference," Hittle said. "There's much larger forces at work creating this scenario. It's linked to negligent landlords, and how easy it is for a property to fall into disrepair. We haven't seen anybody anywhere really get their head around it."
But Hittle, land-use committee chairman for the Near East Side Community Organization Inc., said he appreciates Hogsett's effort, which he hopes will lead to better conditions for "creating vibrancy."
"It's hard to tackle, but anything that contributes to bringing more people into these areas, the better," Hittle said. City neighborhoods were built to be dense, to have a lot of people, to have kids running around, to have seniors, he said.
"It's better than not doing anything."•
Please enable JavaScript to view this content.