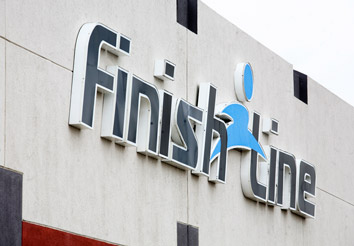 Shares in Finish Line Inc.—which this week agreed to be acquired by British retailer JD Sports Fashion Plc for $558 million—tumbled Thursday morning after the Indianapolis-based retailer reported a sharp quarterly decline in same-store sales.
Finish Line exceeded analyst expectations with its overall earnings during the fiscal fourth quarter, but missed forecasts for revenue and same-store sales. The quarter, which ended March 3, included the all-important holiday shopping season.
Shares dropped 2.7 percent, to $13.52 each, in late-morning trading. The stock had climbed as high as $14.10 per share following the acquisition announcement.
The athletic shoe and apparel retailer reported a profit of $16.3 million, or 40 cents per share, up from a loss of $9.5 million, or 30 cents per share, in the same quarter a year ago.
Earnings, adjusted for one-time gains and costs, were 59 cents per share. That topped the average estimate of 10 analysts surveyed by Zacks Investment Research of 57 cents per share.
Finish Line posted revenue of $561.3 million in the period, up 0.7 percent from the year-ago period, but falling short of the $565.3 million that analysts predicted.
Same-store sales declined 7.9 percent during the quarter. Same-store sales measure revenue from stores open at least a year and are considered an important performance metric in the retail industry.
"While we anticipated that our business would be under pressure during the fourth quarter due to a difficult selling environment for athletic footwear, sales ended up being down more than we forecasted," Finish Line CEO Sam Sato said in written comments. "Despite the top-line headwinds, we worked hard on tightly controlling costs and managing inventories to deliver adjusted earnings per share for the fourth quarter at the high-end of our most recent guidance range of $0.58 to $0.59."
Finish Line has about 930 U.S. locations, including 556 stand-alone stores and 375 shops within Macy's department stores. Quarterly sales at the Macy's locations increased by 8.5 percent.
For the full fiscal year, the company reported a profit of $14.4 million, or 35 cents per share, as compared to an $18.2 million loss in 2017. Revenue was nearly unchanged at $1.84 billion.
Full-year same-store sales dropped 3.9 percent, while sales at Macy's locations increased 7.5 percent.
Thursday's earnings release did not contain any new information about the planned merger with JD Sports. Company officials did not conduct a quarterly conference call with analysts as usual.
JD Sports Fashion has agreed to purchase The Finish Line for $13.50 per share. The deal still needs to gain approval from both companies' boards of directors, and it is expected to close no earlier than June.
 
Please enable JavaScript to view this content.