Back from a three-day trip to Canada that included meetings with Prime Minister Justin Trudeau, Gov. Eric Holcomb told IBJ he's confident Indiana's strong trade relationship with the country is poised to grow despite uncertainty about the future of trade between Canada and the U.S.
Holcomb, who was joined on the trade mission by Indiana Secretary of Commerce Jim Schellinger, First Lady Janet Holcomb, Gary Mayor Karen Freeman-Wilson and Ports of Indiana CEO Rich Cooper, met with Trudeau, other government officials, trade association leaders and business officials in Ottawa, Ontario, Montreal and Quebec.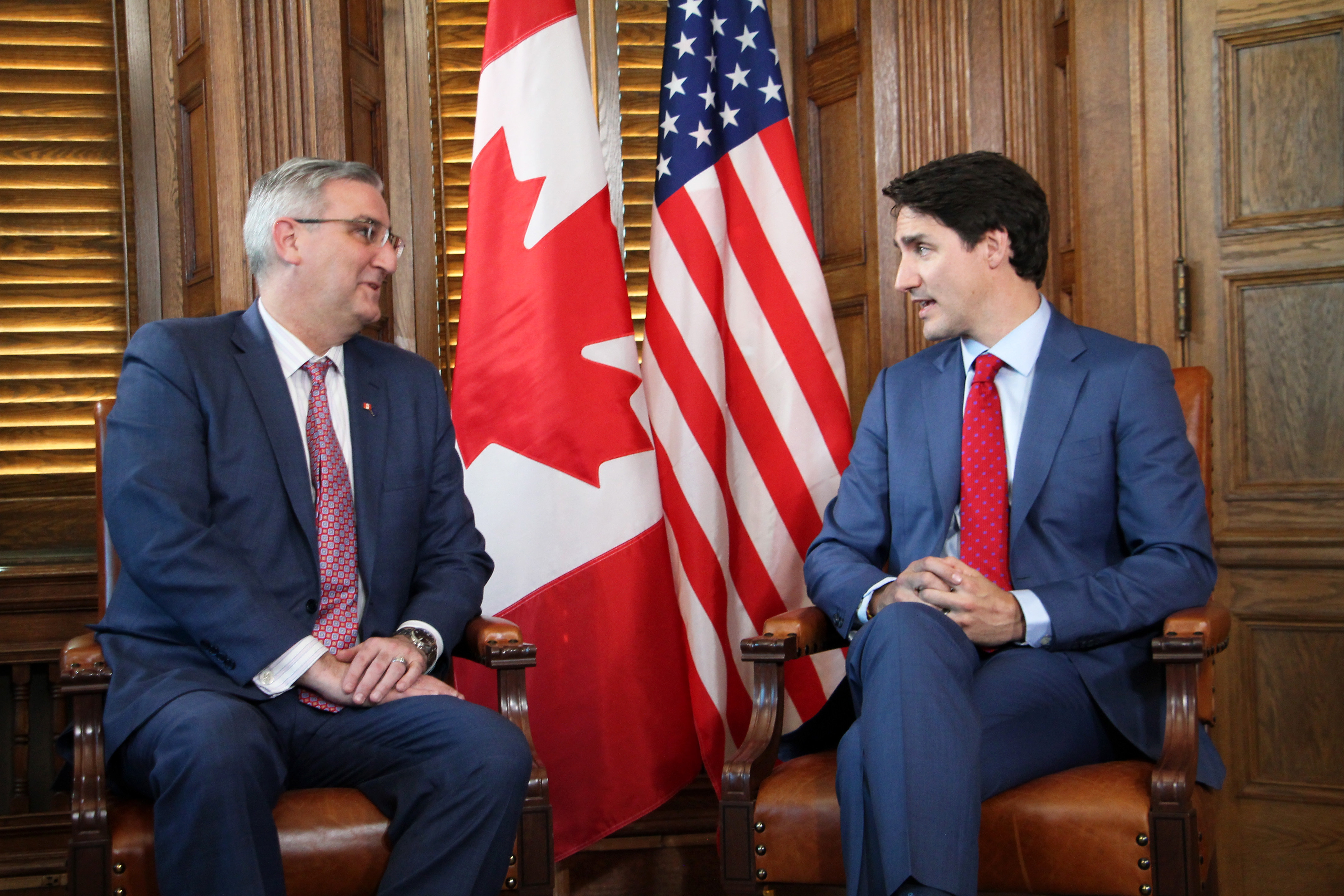 Canada is the state's largest trading partner—last year, Indiana exported $13 billion worth of products to Canada and imported $7.9 billion worth of goods.
Holcomb said the conversations he had regularly hit on workforce development and how to grow Indiana's relationship with Canada in industries like aerospace and agriculture.
During his meeting with Trudeau (see photo), Holcomb said the conversation mostly centered around how optimistic the two leaders are for the future and what they can do to skill up workers.
"We're all moving in the same direction, which is encouraging," Holcomb said. "It just kind of validates that we're on the right path."
While renegotiation of the North American Free Trade Agreement did not specifically come up in his conversation with Trudeau, Holcomb said it was a topic several other leaders mentioned.
Holcomb has previously met with Vice President Mike Pence to discuss NAFTA, and while he supports modernizing the agreement, he won't support changes that could damage Indiana's trade economy.
"They know where I stand and that my number one objective is to always be looking out for the best interests of Indiana," Holcomb said. "Anything we do I want to make sure it's not counterproductive or there's not unintended consequences that are experienced."
The possibility of steel and aluminum tariffs being imposed on Canada on May 1 also came up in conversations, but Holcomb said he's not worried about the potential tariffs damaging the state's trade relationship with the country.
"I just wanted them to know that I wasn't going anywhere," Holcomb said. "We are both seeking to grow our relationship and excited about new possibilities."
Holcomb said he didn't have any specific economic development deals to announce immediately, "but good things will come, especially for those who show up and earn it, and we're earning it."
Holcomb formalized the state's economic partnership with Ontario by signing a memorandum of understanding with Ontario Premier Kathleen Wynne. Holcomb said the agreement calls for "setting up working groups, identifying key sectors, putting dates to it and holding ourselves accountable for progress."
"They're not memorandums of friendships," Holcomb said. "They're data driven and date stamped."
Holcomb has already invited Canadian officials to visit Indiana so he can "show off" what is being accomplished in the state. No date has been set, but the invitation was accepted, Holcomb said.
He also specifically invited Trudeau to the Indianapolis 500, but there's no confirmation yet whether Trudeau will attend.
"We'll see if he takes me up on that offer," Holcomb said. "That would be a big deal."
Please enable JavaScript to view this content.