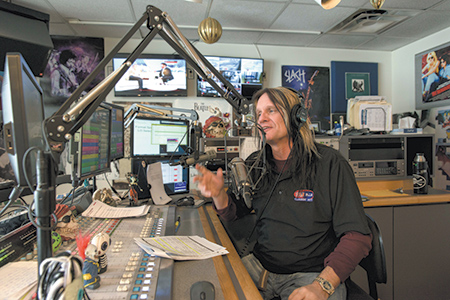 The recent bankruptcy filings by iHeart Media Inc. and Cumulus Media have created a buzz so loud, local radio operators say it's beginning to interfere with their business.
To be heard over the ruckus, some local broadcasters are grabbing a megaphone to spin their own tune to advertisers and listeners.
You can't blame people inside and outside the industry for wagging their tongues about the bankruptcies. With 850 stations, San Antonio-based iHeart is the nation's biggest radio station operator. Atlanta-based Cumulus, with 445 stations, ranks No. 2. Cumulatively, they own more than 11 percent of all U.S. stations.
With seven Indianapolis stations between the two companies, they also are major players here. Whatever happens as the radio behemoths reorganize will have an impact—anywhere from a ripple to a tidal wave, depending on whom you listen to—on the radio industry locally and nationally.
"Anytime your biggest two operators declare bankruptcy, there's going to be a lot of chatter," said Robert Unmacht, a partner at RTK Media Inc., a Tennessee-based investment-banking consultancy focused on broadcasting and technology. "And it's not going to be positive."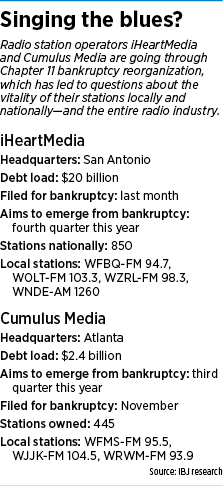 Negative, yes. Warranted? Well, Unmacht and others within the industry say, the answer to that is a bit complicated. They point out that—massive debt aside—both companies' stations have a lot going for them.
"A lot of companies are forced into bankruptcy because they are flawed," Unmacht said. "Not that radio doesn't have challenges, but if you take away the debt, these companies and their stations are not inherently flawed. Many have solid profit margins."
There has been speculation that iHeart, which, when it entered Chapter 11 bankruptcy last month, was saddled with $20 billion in debt, and Cumulus, which had $2.4 billion in debt when it entered bankruptcy in November, would sell off scores of stations to help pay down debt and become leaner.
Fueling speculation, iHeart has shed some of its non-radio properties—10 of its 40 billboard advertising units—in recent years.
iHeart and Cumulus aren't alone.
Many radio station operators, including Indianapolis-based Emmis Communications Corp., have wrestled with excessive debt stemming from stations they acquired in the 1990s at lofty prices. Emmis recently sold several stations—large and small—in addition to a number of city magazines to reduce debt.
But Emmis President and Chief Operating Officer Patrick Walsh predicted that, by reorganizing and offering equity to debt holders, iHeart and Cumulus will be able to lower their debt loads considerably without a major sell-off.
"Both companies are leveraged at 12 to 13 times cash flow," Walsh said. "Lenders will cut that to five to six times cash flow for equity in the company. Radio is still a good business; you just have to have the right amount of debt. And after they restructure, [iHeart and Cumulus] should have that under control."
The swirling speculation was further energized by a March 20 Forbes article that said iHeart would likely shed "hundreds" of stations, "many at rock bottom prices."
IHeart CEO Bob Pittman has done his part to subdue the noise. He told employees at a company-wide town hall meeting shortly after the bankruptcy was announced that it was not his intent to sell off lots of stations, according to sources familiar with the talk. Cumulus CEO Mary Berner has likewise tried to quiet the storm within her ranks.
"Never mind statements put out by the company that stations will not be sold off," said Gene Ely, who covers digital and media for Forbes. "That's intended to quell fears among employees and stem the flood of talent."
Adding to the stew of negative press, radio advertising revenue has been under pressure for years amid the rise of digital competitors and more platforms for accessing music. Radio ad revenue in recent years has mostly been flat.
The firing in January of local iHeart Market Manager Brad Polston after 14 months on the job didn't help. He was replaced by Brett Beshore, who referred all questions about the bankruptcy to iHeart's corporate headquarters.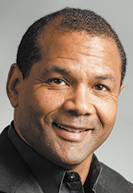 Bryant
IHeart officials declined to comment on the possible sale of any stations, but said in an email response to questions: "iHeartMedia and all our stations are operating business as usual …" Adding, that as a result of going through Chapter 11 reorganization, "we'll now have a capital structure that matches our strong operating business."
Advertisers' concerns
"There's certainly a lot going on in the radio industry, and at first glance a lot of it doesn't look good," said Bruce Bryant, president of locally based Promotus Ad-vertising. "One of the biggest problems the industry is dealing with is that the issues revolving around radio aren't completely understood even among ad agencies."
Erin Theis, media director for locally based Williams Randall Marketing, said she's more concerned with a station's independently audited listener numbers than its ledger.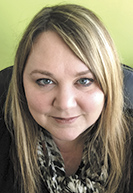 Theis
"Our primary concern is that the advertising we place for a client reaches the audience we intend to reach. If financial volatility led to things such as a change in station format or an exodus of a station's personalities, we would certainly pay attention to that, but not to the bankruptcy itself," Theis said.
"Because we pay for our clients' media buys after the advertising has been verified as running, there is not a lot of financial risk to us or our clients if a media company undergoes a financial reorganization," she said.
That doesn't mean the chatter isn't ringing some alarm bells in the local radio industry.
"This sort of talk complicates things for the [ad] sellers," said Tom Taylor, publisher of a national broadcasting newsletter. "They have another layer to get through with ad buyers, and that's a pain. It is the sort of thing that can erode sales."
So far, the negative speculation and debt haven't kept the iHeart and Cumulus clusters from grabbing local listeners' attention.
In February, the last month in which radio listenership numbers were available, iHeart and Cumulus combined had five of the top 15 most-listened-to stations in the Indianapolis market, according to New York-based Nielsen Audio.
IHeart's classic rock station WFBQ-FM 94.7 was in third place. Cumulus' classic rock station WJJK-FM 104.5 was No. 4 and its country station, WFMS-FM 95.5, was No. 6, according to Nielsen. All those stations have been in this market's top three among listeners age 6 and older in the last six months.
In November, Cumulus' WJJK and WFMS were Nos. 1 and 2, respectively.
"When you look closely at it, radio is the most stable medium in the ad buyer's tool box," Bryant said. "With the number of listeners drawn to radio each week, it's still a powerful medium for brand building. It can give the brand a feeling of being omnipresent. Few other mediums deliver that."
While officials at Cumulus and iHeart declined to comment on the record, several sources close to the local stations indicated they are doing fine. One source said Cumulus is doing better than fine locally. Another local radio insider said he'd be "stunned" if any of the local iHeart or Cumulus stations were sold.
Cumulus' top three local stations and iHeart's top two have a cumulative weekly audience of nearly 1.6 million, according to Nielsen.
'Worth more alive than dead'
And while selling stations would certainly help iHeart and Cumulus reduce the debt strangling them, many within the industry say it would hurt more than help in the long run.
"This isn't a liquidation; it's not a Chapter 7 bankruptcy," Unmacht said. "It's not even a typical Chapter 11. Look at these bankruptcies. Neither iHeart nor Cumulus sought bankruptcy financing. Neither need that because there's no shortage of cash flow.
"There's this misnomer, and these bankruptcies almost certainly have something to do with that, that radio stations are losing a bunch of money. Most of the iHeart and Cumulus stations—certainly in the Indianapolis market—are operating at 30 [percent] to 40 percent profit margin and some more. It's that money that is going to help pay off the remaining debt. These stations are definitely worth more alive than dead."
In the wake of the Forbes article, the Indiana Broadcasters Association fired off a letter quoting a number of executives and owners from its 250-member stations statewide espousing the virtues of advertising on radio.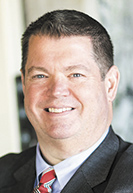 Arland
"There was some frustration among the membership," IBA Executive Director Dave Arland told IBJ. "Radio was getting short shrift in the media … . It was beginning to create questions among advertisers."
The vast majority of Indiana radio stations—including those owned by iHeart and Cumulus—are financially healthy, Arland said.
And while iHeart and Cumulus are the two biggest radio clusters, Arland pointed out that many radio stations are not facing bankruptcy.
"Don't put us all in the same bucket," he said. "Ninety percent of the stations are not highly leveraged. I don't want all of radio swept up in this."
iHeart and Cumulus are aiming to emerge from bankruptcy by year's end, and industry sources say both could emerge stronger, with less debt and more money to spend on their stations—including in this market—in categories like sales and marketing, programming, events and talent.
Mary Berner, who guided Reader's Digest through bankruptcy before taking over as Cumulus CEO in 2015, has already started making those investments. Cumulus local Market Manager Tom Stemlar—who declined to comment for this article—told IBJ in 2016 that he credits Berner's leadership and her willingness to give local stations autonomy for the ratings rise of WJJK and WFMS.
"Before they went into bankruptcy, every dollar those companies' stations made went out to pay a bank—to pay the interest on those debts," Unmacht said. "And that led to some cutbacks over the years. After reorganization, those [iHeart and Cumulus] stations will very likely have considerably more money to spend on improving their operations. I wouldn't be surprised to see more local salespeople hired, and other talent, too. That's the real story here."•
Please enable JavaScript to view this content.