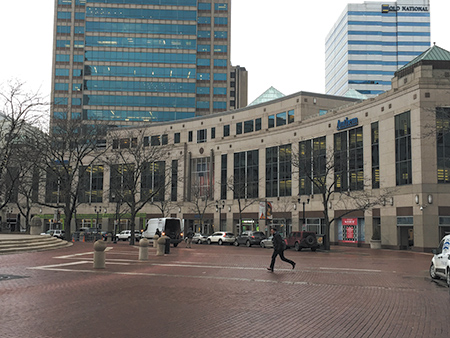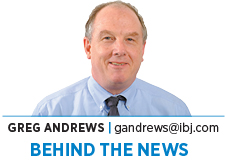 Three of the four health insurance giants whose mergers with one another were blocked on antitrust grounds last year have announced or are reportedly discussing deals with other major players in the health care supply chain.
The odd man out is Indianapolis-based Anthem Inc., which is the Blue Cross Blue Shield licensee in 14 states and the nation's second-largest health insurer.
Business history is littered with colossally bad mergers that seemed brilliant at the time. So Anthem might find itself rewarded if its board remains levelheaded and avoids the temptation to negotiate its own megadeal.
Or, conversely, it could find itself at a distinct disadvantage as its rivals bulk up—in part to wring savings out of the notoriously inefficient health care system, and in part to make themselves more formidable rivals to Amazon as speculation swirls that it will make an aggressive push into health care.
Another wild card is whether federal antitrust regulators will look more kindly on the latest round of deals, which focus on vertical integration, after they struck down deals last year that would have consolidated the largest five health insurers into three companies.
The antitrust rulings derailed Anthem Inc.'s $54 billion acquisition of Connecticut-based Cigna Corp. and Connecticut-based Aetna Inc.'s $34 billion purchase of Louisville-based Humana Inc.
The first of the huge vertical mergers came in early December, when Rhode Island-based pharmacy giant CVS Health announced it was purchasing Aetna for $69 billion. That was followed by Cigna Corp.'s early March announcement that it was buying St. Louis-based pharmacy-benefit manager Express Scripts Holding Co. for $52 billion. Then, in late March, The Wall Street Journal reported that Arkansas-based retail giant Wal-Mart Stores Inc. was in early discussions to acquire Humana—a deal that would transform Wal-Mart, already a major drugstore operator, into a major insurer as well.
Where does this leave Anthem? On one hand, thanks in part to the power of the Blue Cross Blue Shield brand, Anthem has amassed 40 million insurance customers and has a huge market share in many states, giving it the clout "to obtain significant pricing advantages" from health care providers, according to a Morningstar report.
On the other, "the changing landscape of the U.S. health care market has built unprecedented uncertainty into the operating environment for Anthem," Morningstar noted.
Some of the biggest uncertainties surround Anthem's relationship with pharmacy-benefit managers—middlemen in health care that help select which drugs are covered and negotiate discounts with drugmakers. The three giants in that field are CVS, Express Scripts and OptumRx, a unit of Minnesota-based UnitedHealth Group Inc., the nation's largest health insurer.
Anthem operated its own PBM until 2009, when it sold it to Express Scripts for $4.7 billion and hired the firm as its PBM. But the relationship later soured, and in 2016 Anthem sued Express Scripts, accusing it of billions of dollars in drug overcharges and pocketing an "obscene profit windfall."
To extricate itself from that relationship, Anthem announced in October that it would launch its own PBM, IngenioRx, when its Express Scripts contract expires in January 2020. Anthem said it would operate its PBM in partnership with CVS, which would handle claims processing and prescription fulfillment. In addition to using IngenioRx for its own customers, Anthem said it would provide PBM services to outside companies, including other Blue Cross Blue Shield plans.
Just two months later, CVS announced it was buying Aetna—fueling speculation that, given Anthem's long-standing rivalry with Aetna and the potential it would get favorable treatment, Anthem would pull the plug on its CVS partnership.
But all signs are that both companies are fully committed to charging ahead. CVS General Counsel Thomas Moriarty told the U.S. House Judiciary Committee's Subcommittee on Regulatory Reform, Commercial and Antitrust Law in February that his company would continue to have robust relationships with other insurers.
He noted that Aetna's customers make up only 11 percent of CVS' pharmacy business.
"We would have so much more to lose than we would to gain," Moriarty said.
At the Barclays Global Healthcare Conference in March and on a conference call with Wall Street analysts in January, Anthem executives sounded as bullish as ever about the business model of their PBM.
They reiterated projections released in October that it would achieve more than $4 billion a year in cost savings, with 80 percent going to customers and 20 percent going to the company as operating profit.
"I'm very impressed with the level of commitment that we're seeing out of the CVS relationship," Executive Vice President Brian Griffin said on the January call.
At the Barclays conference, CEO Gail Boudreaux said Anthem's reliance on CVS gives Anthem a "very capital-efficient way" to build its PBM.
In a report, Morningstar said Anthem needs the CVS partnership because, otherwise, its PBM lacks "the scale and pricing power" to compete with the big three PBMs.
While competitors roll out megadeals, Anthem continues to snap up smaller acquisitions—not the sort of mergers The Wall Street Journal splashes across its front page, but strategically important nonetheless.
For example, in October, Anthem announced it was buying America's 1st Choice, a private health insurance company that provides services to 135,000 senior members in Florida and South Carolina through Medicare Advantage plans.
Even without a headline-grabbing megadeal, Anthem's future is bright, Credit Suisse analysts wrote in a March report headlined "No Blues Here; Favorable Prospects Outlined."
Credit Suisse estimates that Anthem shares, which currently trade for about $224, might rise to $280 in the next year.•
Please enable JavaScript to view this content.