Anyone who's been to a Dance Kaleidoscope performance knows that David Hochoy is the face and voice of the Indianapolis
modern dance troupe. But the company's veteran artistic director rarely acts alone, often relying on his trusted lighting
designer.   
Likewise, Indianapolis Symphony president and CEO Simon Crookall and former music director
Mario Venzago were both widely known for their public leadership of Indiana's largest orchestra, even though both relied
constantly on someone else for day-to-day coordination of all kinds of artistic matters.
For this year's
A&E Season Preview, we thought we'd introduce you to some of the people behind the people, behind the scenes decision-makers
responsible for everything from setting the scene for dance to contract negotiations for guest artists.
ANTHONY  TOLOKAN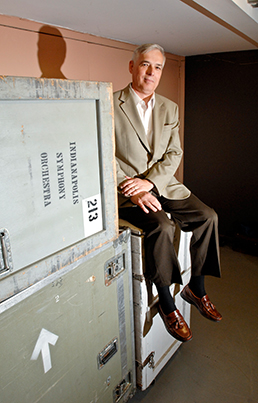 Anthony Tolokan (IBJ Photo/Robin Jerstad)
Anthony "Toby" Tolokan, the ISO's artistic
administrator since 2002, is one of Indy's busiest backstage types these days. He has been intimately involved in planning
the orchestra's past eight seasons, but he will probably be relied upon even more this season, in view of Venzago's
sudden July 30 departure from the orchestra. (See Talking Points, page 12B)
Tolokan, who once aspired to be a
professional violinist, has spent 35 years in arts administration. Before signing on with the ISO, he worked for the Seattle
and Hartford (Conn.) symphony orchestras. Fond of comparing his job to "a 3-D puzzle," Tolokan pays attention
to such factors as "what has the orchestra played recently—or not. It's also what soloist can play which
concerto at the moment, and can I team that up with either the music director or a guest conductor. Often it comes down to
scheduling."
Because Venzago not only lives in Germany but also had a busy European concert schedule during
his employment by the ISO, Tolokan had to maintain constant communication with him—but often not in person.
"It's been more e-mail than phone," Tolokan said. "Obviously, when he was here in Indianapolis,
we saw each other. But a lot of times, a music director wants to have one conversation with an artistic administrator, and
just have it be done."
Much of Tolokan's job entails research, fact finding and negotiations. During
contract talks with guest artists, he represents the music director. "I have to be their diplomat," he said. Sometimes
he also has a chance to "pick" selections—at least "in the sense of making a suggestion." However,
he feels that most of the decisions he gets to make "would bore the general public. They're so nuts and bolts."
JENNIFER  COMPLO  McNUTT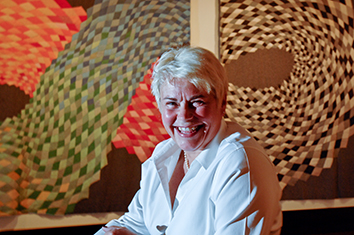 Jennifer McNutt (IBJ Photo/Robin
Jerstad)
Next year will be Jennifer Complo McNutt's 20th year with the Eiteljorg Museum of American Indians
and Western Art, and while John Vanausdall is the museum's president and CEO, she nonetheless takes a proprietary interest
in the place. In fact, she occasionally refers to the Eiteljorg's contemporary holdings as "my collection."
Commenting on the Eiteljorg's growth through the years, McNutt, the museum's curator of contemporary
art, said that "this institution is now two times as big as it was. Being here for 20 years, I have some knowledge of
institutional history. It makes a difference starting in a young organization and being able to develop it.
"It's
also very different, being a painter who chooses the art work at a museum, as opposed to an art historian who might be more
theoretical and look at trends in different ways. I'm always looking in terms of best work."
As for
her working relationship with Vanausdall, McNutt said that "this particular CEO has visionary qualities. He'll
often blue-sky an idea. But he also lets me do my job."
RUTH  E.  DWYER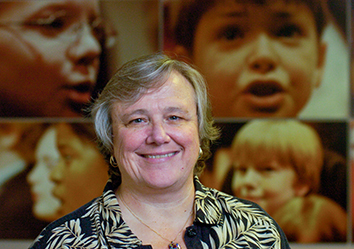 Ruth Dwyer (IBJ Photo/Robin Jerstad)
Agents may act like children, but Ruth E. Dwyer deals with the real thing
as associate director and director of education for the Indianapolis Children's Choir. Mainly staying behind the scenes—even
after two decades with the organization—she has become increasingly important to the widely traveled, internationally
known arts group. While ICC founder Henry Leck remains at the helm, Dwyer conducts three of its 14 choirs (namely the Kantorei,
Lyric and Chamber ensembles). She also chooses music for all the choirs.
"Henry has always been a very
collaborative person," Dwyer said. "Choosing the music really is a big contribution, and I'm able to do
it because I have a vast knowledge of the choir's music library. We have over 2,000 published pieces of music in that
library."
During her early years with the Children's Choir, Dwyer worked part-time while teaching
in the public schools. But since she went full-time with the ICC, she has had the opportunity to help shape the organization
"into an educational institution. That's important, because we can all just learn to sing a song for performance
by rote. But that doesn't make us hold music in our heart, or make us independent as musicians."
LAURA  GLOVER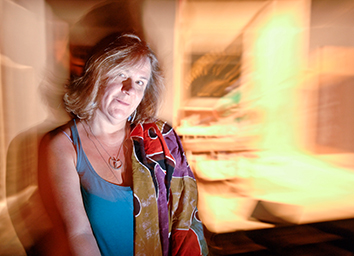 Laura Glover (IBJ Photo/Robin Jerstad)
Laura Glover has been working with the Indianapolis area's
leading modern dance company for about 18 years. DK artistic director David Hochoy calls Glover his "right-hand person.
I could certainly not do anything close to what we do without her. She is responsible for fully half of what DK is able to
accomplish. She is always willing to work so hard with very limited resources."
 A New Jersey native
who worked for the Martha Graham Dance Company after Hochoy did, Glover said that her longtime collaboration with Hochoy has
"evolved into a wonderful partnership. It took some time, but what David did from the beginning was trust my instincts
as a lighting designer." What she tries to do at DK is provide "a visual landscape in which a piece takes place.
Of course, that depends on what the intent of the choreographer is." For example, Glover said she tried to infuse DK's
recent production of "The Rite of Spring" with "edginess, tension and violence."
EDDIE  CURRY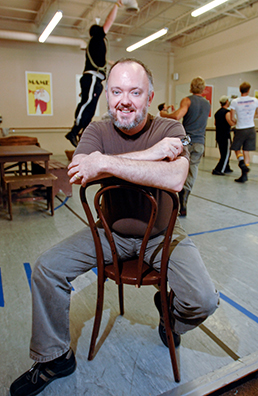 Eddie Curry (IBJ Photo/Robin Jerstad)
Producer Eddie Curry plays second fiddle to Beef & Boards Dinner
Theatre owner Douglas Stark. As Curry celebrates his 20th anniversary with the north-side dinner theatre, he describes his
professional relationship to Stark in terms of "a high-school hierarchy. Doug is the principal and I'm the assistant
principal. The assistant principal deals with the student body, and my student body is the actors. I negotiate contracts.
I'm the first point of contact for the actors."
That's not to say Curry controls every detail
at Beef & Boards.
"Doug Stark still has veto power," he said. "For instance, if there's
someone he wants to work in [to the cast], he does. But for the most part, things go through my artistic direction."
Curry considers negotiating to hire actors "neither easy nor hard, but it can be frustrating and satisfying.
The satisfying part is when someone has paid their dues as an actor, and I'm able to offer them a lead role. I don't
particularly like negotiating with agents from New York. When they can't get what they want [financially] for an actor"
they start turning over rocks in other areas. They will say, 'My client needs a blue car.' It can get a bit tedious."
So what do the upcoming months hold for the behind-the-sceners?
•
This season, look for Tolokan to work closely with the guest conductors who will stand in for Venzago. Tolokan will also play
a lead role in planning the 2010-11 ISO season.
• Curry will be on stage at Beef & Boards as the anti-dancing
minister in "Footloose."
• Dwyer said she is excited about working on a Broadway-based program
for the Children's Choir, probably in spring 2010. She also will help plan the group's 25th season in 2010-11. 
• McNutt said that, this fall, she will help launch the next edition of the Eiteljorg Fellowship for Native
American Fine Art, a nationally known, biennial fellowship that has awarded more than $500,000 in grants and added more than
125 original pieces by 30 Native Americans to the museum's permanent collection.
• Glover said she
is looking forward to the challenge of lighting a fall modern dance program set to the music of Jacques Brel, on the Indiana
Repertory Theatre's Upper Stage.
_____
Check out the full digital version of our annual Arts & Entertainment Season Preview, where
Lou Harry shares dozens of his best bets for the 2009-2010 arts season and we provide a roundup of some issues to watch in
the local arts community.
Please enable JavaScript to view this content.